BOOM!
Are YOU ready for the world's AWESOMEST Karate camp?
Last year's KNX was a huge success, with martial artists from 18 countries joining this "once-in-a-lifetime" seminar of world-class Karate training & friendship.
The Karate Nerd Experience 2016 is now OPEN for registration!

(Note: SOLD OUT – GET THE VIDEOS INSTEAD)
So – what's new this year?
First of all, KNX16 takes place in London, UK, August 19-22.
Last year's event took place in Germany. And every KNX improves! So, although the Karate Nerd concept remains the same (including the famous "pink" belts), there are new teachers, a new theme, new goodie bags, new surprises and a new venue.
As you can imagine, this is not your "regular" Karate seminar.
Oh no…
The goal of KNX16 is laser-focused:
Take YOUR Karate to the NEXT level.
I've been to hundreds of Karate camps in my life – all over the world. Sadly, only a handful of those were memorable experiences. Often I wasted both time and money on "experts" or champions who didn't inspire me or teach me anything new.
So trust me…
KNX16 will be unlike ANY seminar you've EVER attended.
Just like last year, I've invited the world's best experts from various fields of Karate to share their knowledge & passion alongside me. But they're not the same as last year.
The theme of KNX16 is a journey through the history of Karate!
On Day 1, you'll experience the ancient roots of old-school Karate via the China/Okinawa connection, before time-travelling to Day 2 for a deep dive in classical Japanese Karate (including a cultural lecture), arriving on Day 3 with modern Karate adapted for Western MMA.
Follow along with Jesse and the other Karate Nerds as you experience the evolution of Karate first-hand (China > Okinawa > Japan >West) in both theory and practice!
Each day, a hand-picked expert will guide you on the journey.
The teachers of KNX16 are…
Day 1: Master Wong
Wing Chun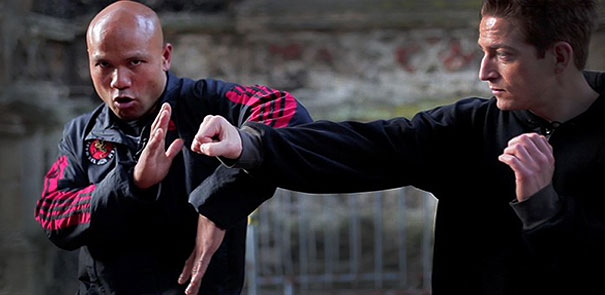 Master Wong is probably the world's most bad-ass kung fu expert. His crazy popular YouTube channel has millions of views, showcasing his practical Wing Chun fighting techniques and no-nonsense self-defense. 
Sifu (the Chinese term for sensei) Wong originally came from Vietnam as a refugee at the age of ten, and took up martial arts as a result of being bullied at school. In his early twenties, Wong travelled around Hong Kong and mainland China to study with a variety of Chinese masters, giving him a skillset rarely seen in the kung fu world. This experience led him to open up his own academy in 1992.
Master Wong's unique way of teaching traditional Chinese martial arts for the 21st century learner has made him hugely popular. His online training system, Master Wong Academy, is a comprehensive program that will be accessible to all KNX16 participants.
At KNX16, Master Wong will teach you the art of Wing Chun kung fu, allowing you to reconnect with the lost roots of Karate. You will discover the origins of old-school Okinawan Karate, and how its close-quarter combat applications can be applied for modern self-defense.
Day 2: Kousaku Yokota
Classical Japanese Karate-Do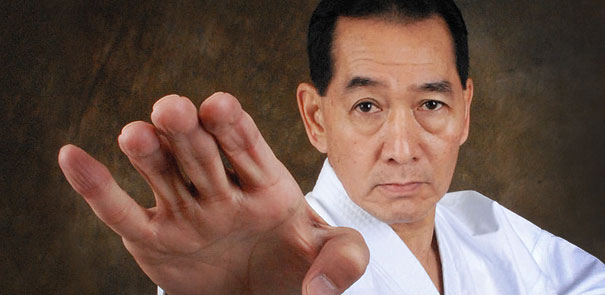 Sensei Kousaku Yokota, 8th dan, is a best-selling author with extensive experience in Karate – including 50 years of Shotokan. He specializes in Asai-ryu, but his wide range of experience also includes training in the art of Ki and the breathing method of Nishino-ryu Kikojutsu.
Sensei Yokota started his martial arts training with Judo at 13 years old. Three years later, he joined the local Karate dojo in his hometown of Kobe, Japan, embarking on a long journey in traditional Budo Karate. He trained under the late Master Sugano, 9th dan JKA Vice Chairman, and completed his instructors' training in 1982. In 2002, he followed the late Master Tetsuhiko Asai, eventually forming his own organization to honor his master and promote his unique style.
Sensei Yokota's books represent a paradigm shift in the dogma of Japanese Karate. His most famous books include Shotokan Myths (2010), Shotokan Mysteries (2013) and Shotokan Transcendence (2015). He is also a regular contributor to magazines such as Shotokan Karate Magazine, Masters Magazine and Classical Fighting Arts. He also has an informative blog.
At KNX16, Kousaku Yokota will teach you his approach to Japanese Karate-Do, along with the cultural characteristics and Budo mindset that permeates its core. You will experience the evolutionary details that bridges the gap between Okinawan Karate and Japanese Karate. 
Day 3: Vinicio Antony
Karate-Jutsu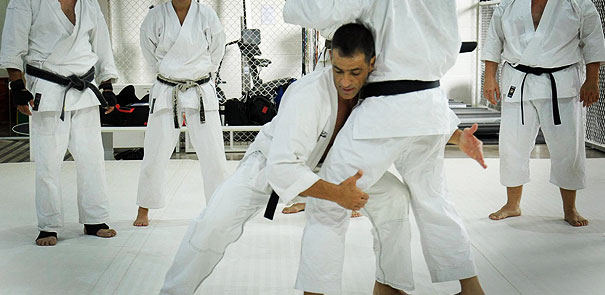 Sensei Vinicio Antony is a pioneer in the Pan-American Karate world. As the personal Karate trainer of multiple UFC & MMA fighters, he has mastered the art of adapting the essential biomechanical principles of Karate for cage fighting. In his home country of Brazil, he is known as the "Karate-Jutsu" expert.
Sensei Vinicio started training Karate during the era of no-rules fighting. After winning multiple national and international titles, in both kata and kumite, his thirst for deeper knowledge led him to cross-train in multiple martial arts; including Muay Thai, Brazilian Jiu-Jitsu, Vale Tudo, Kick Boxing and Mixed Martial Arts – MMA.
Word spread quickly in the Western martial arts community of sensei Vinicio's ability to efficiently combine traditional Karate with modern combat sports. His most famous students include former UFC champions like Lyoto Machida and Vitor Belfort.
As the author of "Jutsu – A Arte Oculta no Karate" ("Jutsu – The Hidden Art of Karate"), sensei Vinicio personifies the concept of 'Bun Bu Ryo Do' – the scholarly warrior. Check out this cool video of him.
At KNX16, Vinicio Antony will teach you exactly how Karate's traditional movement methods and principles of energy transfer can be applied in the context of mixed martial arts, revolutionizing your understanding of the potential power in Karate as a complete fighting art. (Believe me, I visited his dojo last year in Brazil. You h-a-v-e to meet this man!)
Day 1-2-3: Jesse Enkamp
The Karate Nerd™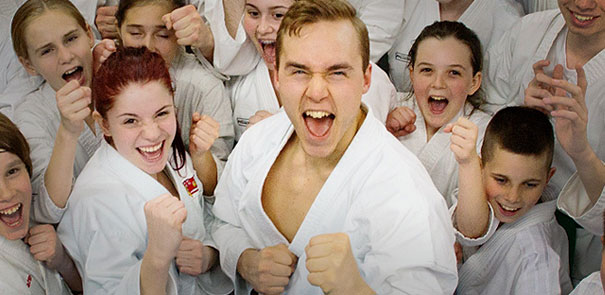 Last but not least – me. : -) If you're not a long-time KbJ reader, allow me to quickly introduce myself:
I'm The Karate Nerd™, #1 Amazon.com best-selling author, founder of Seishin International (the world's first crowdfunded & crowdsourced Karate suit), blogger, hobby adventurer, entrepreneur, book lover and carrot cake connoisseur.
My Karate training started the day I could walk. It's my life. I teach, practice and research martial arts daily in my family's academy in Stockholm, Sweden, but I regularly visit new countries to learn and share ideas with awesome people like you.
My biggest passion is to help you improve your Karate by passing on what I've discovered during my travels around the world, training with different masters and living in Okinawa  – the birthplace of Karate.
At KNX16, I will teach one session each day to share my observations and experience in the different stages of Karate's fascinating evolution.
_____
So… are you excited yet?!
I can barely sit still as I'm writing this!
If you love to understand more about Karate, improve your skills & have fun – this is for YOU!
At KNX16, your belt level, experience or style doesn't matter; as long as you are open-minded, ready to learn & eager to meet cool people. The only requirement is that you're 18+ years and can travel to London, UK. You should also be able to speak basic English.
Remember – there are only 43 spots for this once-in-a-lifetime opportunity to meet likeminded Karate Nerds from around the world, train together, live together (accommodation in single / twin rooms with B&B + goodie bags included) and have TONS of fun together with amazing instructors.
Last year's KNX was amazing – you DON'T want to miss this year!
(SOLD OUT! Pre-order the KNX16 videos now to save $20 off.)
Welcome to The Karate Nerd Experience 2016.
See you in London! ;- )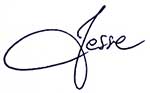 PS. Here's what one participant said about last year's KNX15
Links from previous KNX events: