Wow…
Exactly 7 days ago, I wrapped up KNX15 – The Karate Nerd Experience 2015.
I'm still buzzing!
In case you forgot, KNX is my yearly "once-in-a-lifetime" seminar, where I personally handpick experts from different fields of Karate to share their wisdom with a group of unique Karate Nerds™ like you.
It's unlike any seminar you've ever seen…
KNX15 was probably the best Karate event in the history of the universe – and today I want to tell you all about it.
For this article, I actually invited a participant to share his first-hand experience with you!
Read below what sensei John Titchen, KNX15 attendee, chief instructor of Practical Karate Association and conflict management expert from the UK had to say about the seminar.
His words will make you wish you'd been there!
Check it out…
"Hi there. My name is John, and on the second weekend in August I travelled along with other martial artists from around the globe to enjoy Jesse Enkamp's second Karate Nerd Experience – KNX15.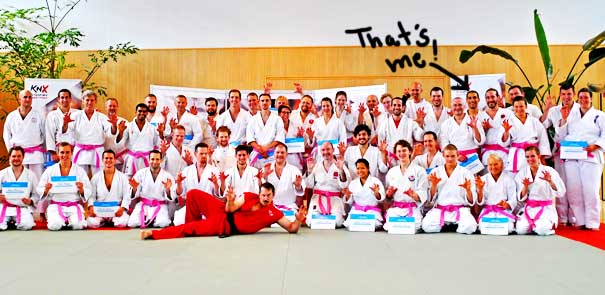 This year, attendees and instructors came together from 18 countries across North and South America, Europe, Africa and Okinawa to share their enthusiasm and knowledge in Karate.
Before I say anything more about the event, I'd like to make a comment on the "momo-iro" (peach blossom, or pink) belt that everyone are required to wear at this event.
From adults just out of college, to a number of us with greyer hair, throughout the event I had no idea of the grades or experience of my fellow participants.
Grade was not relevant.
What was relevant was an enthusiasm to learn, a clear respect for every other person on the mat, and the willingness to try new approaches. The belt was worn not only by the students but also by all the guest instructors – even the Japanese masters and world champions.
The momo-iro obi not only bound our waists, it brought us all together as a symbol of shared experience.
(Related reading: Why I Made People Wear Pink Belts (!) in My Karate Seminar)
So, what was this experience?
Well, I've been fortunate enough over the years to have attended and taught at a number of national and international seminars at home in Britain and abroad, both in single disciplines such as Karate or multiple martial arts.
Without a doubt, forgetting for a moment the high quality of the instruction, this was the smoothest running event I have ever seen.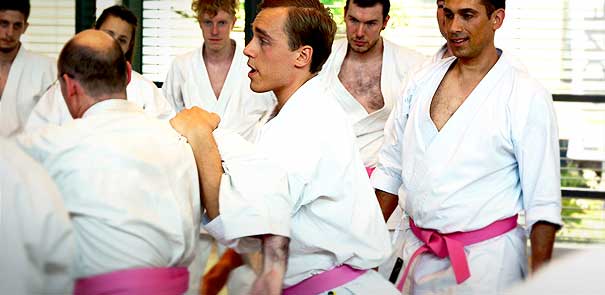 Much of the credit for this is due to Jesse Enkamp and the team that he gathered together to run the seminar, particularly his local friend Matthias Golinski.
From picking a good venue (with accommodation, training and social facilities all in the same building) and organising appropriate instructors, timetabling events and arranging professional video recording and cameras, communicating in advance and throughout the experience by email and social media (there is a secret Facebook group for attendees only), to welcoming us all with a Karate Nerd goodie bag – everything slotted perfectly into place.
For those of you that have read Jesse's blog, this attention to detail should come as no surprise.
Jesse kicked off the event on Friday by bringing us all together for a training session on four bunkai (applications) he had developed for an Okinawan kata called Niseishi, immediately identifiable to me even though I practice the Shotokan version of this kata, Nijushiho.
This session and Jesse's instruction set the tone for the entire weekend.
Jesse is a superb technician and an inspiring teacher. Most people know Jesse through his blog as a successful competitor, and a good writer and researcher; but as he starts to teach more seminars I hope that more people will discover what a great teacher he is too.
Jesse was followed onto the mats by Professor Waldo Zapata – BJJ (Brazilian Jiu-Jitsu) champion, MMA pioneer and coach of numerous UFC fighters.
This was another lesson marked by good humour, training insights and very high quality teaching.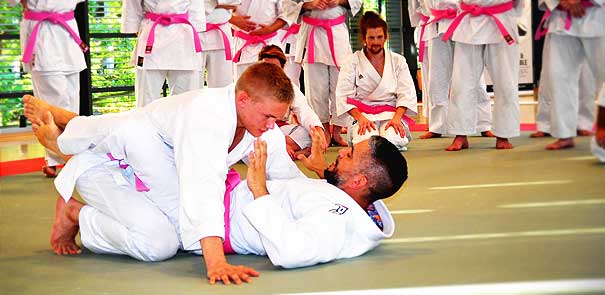 Imagine the challenge of teaching a number of practical 'get-up' drills to a class of Karate people, where the majority had little or no ground experience.
It was a tough challenge, but the principles were explained clearly and movements broken down in such a way that the group progressed at a fast pace encouraged by Waldo's enthusiasm. Very useful techniques if you ever end up on the ground!
After training it was time for dinner, followed by a Q & A session with Okinawan Karate legend Hokama Tetsuhiro, 10th dan Goju-ryu.
At 70 years young, Hokama Sensei was engaging and enthusiastic as he tackled the various questions the group put to him. He was later video interviewed by Jesse, using questions that fans had sent through Facebook. Hokama sensei kindly finished the evening by demonstrating his calligraphy skills, writing kanji for attendees on specially provided paper as well as signing copies of his latest book.
Hokama Sensei taught three lessons on Saturday aided by two assistants and demonstrations from the attendees, where he was impressed by their training.
His lessons were marked by concentration, attention to detail, physical pressure, lots of pain and giggles.
The combination of concentration, relaxation, hard conditioning (varying throughout the group depending on age and injuries) and laughter summed up what makes Karate so appealing as a hobby, a form of exercise, and as a way of life.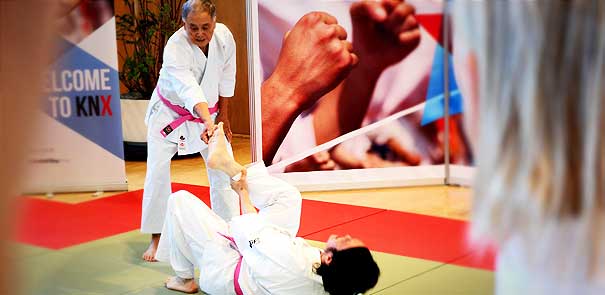 In the middle of Sensei Hokama's lessons, the participants took a break from Okinawan Karate to look at the dynamics of modern WKF competition kumite under the tutelage of World and European Champion Jonathan Horne from Germany.
Due to pain from a pre-existing back injury I had to sit and watch this lesson, which focused on understanding distancing, generating speed and power, using appropriate timing, and the economy of movement. Many details were taught on how to improve the kizami-zuki, one of Horne's signature techniques.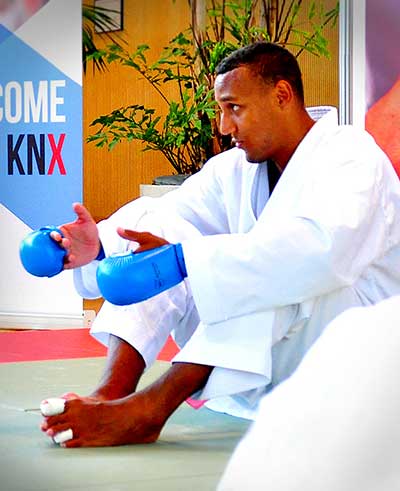 Karate is so broad that it can be easy to put ourselves into 'camps' or 'factions', and while competitive Karate is not my forte, by watching Jonathan I was able to identify principles of movement and posture that I teach in my own dojo, as well as other commonalities with lessons taught by Jesse Enkamp, Waldo Zapata and Hokama Tetsuhiro.
This was indubitably the most energetic and tiring of all KNX15 sessions, but the atmosphere created in the dojo meant that it was impossible to find a single person without a beaming smile.
On Saturday evening, as we gathered back at the dojo for the evening's 'secret' activity, the group was still buzzing.
Luckily, Jesse had realised that our combination of high spirits and tired bodies needed something special, and had therefore organised an introduction to Zen.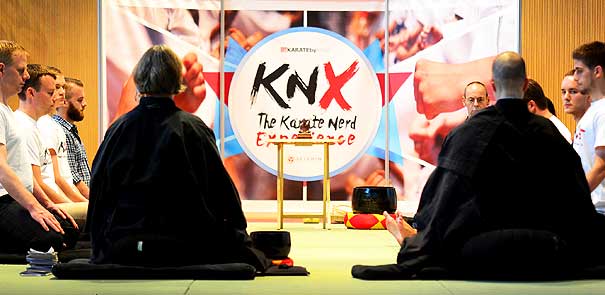 Suitably calmed and mentally relaxed, we all then took advantage of the excellent social facilities to sit outside in the evening heat to informally discuss the day's events over some nourishing cold beverages.
Before we knew it, Sunday morning had come round and it was time for Jesse to deliver the final lessons. He began by encouraging us to practice the bunkai combinations he had taught us on Friday before showing us how they related to the solo form of the Okinawan version of the kata Niseishi, teaching the full form.
As someone who knows two other versions of this kata I found this lesson particularly fascinating. This session once again highlighted the quality of Jesse's instruction and the precision of his techniques. It was also fascinating to see the slight variations in the performance of the same form caused by the different heritage of the various participants.
One last class remained.
In a very prescient manner, Jesse had scheduled a 'recovery' class to look at post training therapy to optimize recovery and therefore enhance our potential. This is a subject that is often ignored and it was good to see it covered as part of a more holistic approach to karate training.
While I am certain that there was more Jesse could have taught us, at that point the dojo was stormed – taken over by another master!
Master Ken.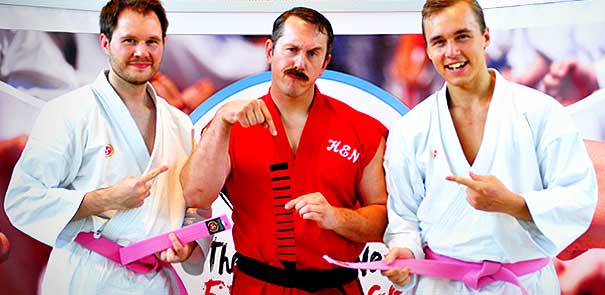 As we had failed to heed his warnings, travelling all the way from New Mexico, USA, "Ameri-Do-Te" founder and 11th dan, "Master Ken" strode into the dojo to teach us the errors of our foolish ways.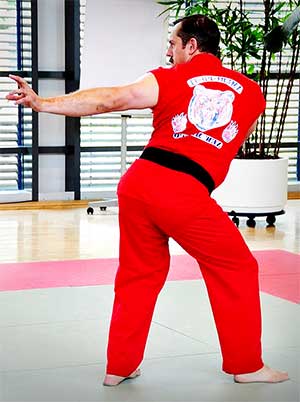 After a quarter century of Karate training, I was humbled by the power and charisma of his "Hurticane", "Gluteus Shield", "Tiger Claw", "Kill Face" and many more deadly techniques.
Master Ken was as incredible in person as his Youtube channel "Enter the Dojo" suggests. Watching this man shook me to my core. My sides are still aching.
In fact, there were moments when along with my companions I was helpless on the floor (from laughter)!
This was a unique ending to a great weekend seminar!
Reflecting on the weekend I can see that it has stoked the enthusiasm of all attendees and proved the flash point of ideas that will be taken to dojos across the world.
The only sad thing is that we could only meet up for 3 days. I would jump at the opportunity to train with any of the instructors who were chosen to teach at KNX15, and would recommend training with any of them if you have the opportunity to go to a seminar or visit their dojos.
Most of the instructors are based in Europe, America or Asia – but Jesse is visiting the UK later this year for seminars which I will attend myself.
Thanks to Jesse, his team and everyone else at KNX15 for a great event.
I'm already looking forward to seeing what the next one will be!"
________
Thanks John-san!
If anyone is interested in attending a future KNX event, sign up here.
(Next year's event will be in Canada.)
Thanks to everyone who made KNX15 a success!
"Team work makes the dream work."
See you next year!