What is "kime"?
The word is frequently used by Karate people all over the world.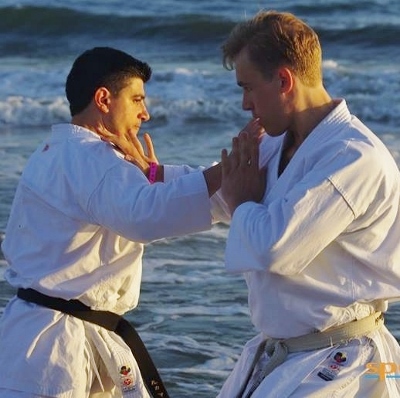 But…
Few people seem to comprehend it's full meaning.
It's time to change that.
Today I've invited Lucio Maurino, holder of 22 World & European titles (EKF/WKF) and Doctor in Motor Science (Preventive & Adaptive Sports Science).
He will explain the concept of 'kime' in a quick and precise way for you.
You might remember sensei Maurino from our last article (Why Karate's Classic Heel Turn is Scientifically Wrong) which caused an earthquake in the online karatesphere – and rightfully so.
You ready for round two?
Check it out:
(Can't see the video? Go here.)
Summary:
What is "Kime"?
Kime comes from the word "kimeru" which means "to decide" in Japanese.
In Karate, the term has two applications; an Eastern and a Western one.
The Eastern is extreme decision or focusing energy.
The Western is short isometric neuromuscular contraction and is based on the science of biomechanics.
This means you must quickly tense your muscles (snap) at the moment of impact, but not so much that your muscles are shaking.
Your ability to coordinate your muscles, and quickly relax before and after a technique, directly effects your kime.
That's it. No magic tricks or strange sounds with your mouth.
The 4 Points of Kime
Relax.
Use correct technique.
Have accelerating power.
Stop quickly.
_________________
Want more?
Get my 25 Karate "Hacks" Proven by Science. It's 100% FREE and will be directly sent to your e-mail. Also, if you're interested in seeing other stuff from me and Dr. Lucio Maurino, leave a comment to let us know. Or come to KNX14 and train with us ;- )
Lastly, remember this…
Karate is a martial art.
But there's science too.
"Study the science of art. Study the art of science."

– Leonardo da Vinci (1452-1519)