The vitality of the old, bearded man is hard to forget.
With unbelievable swiftness he casually disarms his knife wielding opponents, using his nunchaku, again and again. It looks like he has done it thousands of times before.
He probably has.
We are looking at Nakamoto Masahiro, hanshi 10th dan Okinawa Kobudo, who is in cold Sweden to hold a 3-day seminar in the ancient Okinawan art of defending with weapons – Kobudo.
Nakamoto-sensei is the only living direct student of the late Taira Shinken. He was also a direct student in Karate of the Shuri-te warrior Chibana Choshin, as well as Nakama Chozo (Karate) and Oshiro Chojo (Kobudo).
We are looking at a master of the old school.
When you see Mr. Nakamoto for the first time, chances are you'll believe he speaks English. He will give you a big smile, always shake your hand, and let out a warm "Hello, nice to meet you!" But chances are that's the last English you'll hear from him in a while, unless you know him really well. Nakamoto sensei is a very calm person. When you speak to him he rarely makes faces, gestures or even moves. Occasionally he strokes his chin, feeling his white Santa Claus looking beard, which he only grew the other year. –Makes me look more wise, he says.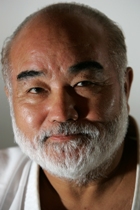 Well, it also makes him look older. But even though Okinawa is, as most people know, world famous for its old population, Nakamoto-sensei (who was born in 1938) seems to be extraordinarily vital and flexible for his age. According to himself, it's all thanks to Karate. The old masters of Shorin-ryu were always healthy and lived long. –That's the way it's always been. In olden times, the estimated life expectancy was 50 years in Okinawa, but Karate masters often lived to see 80 years.
As you might have noticed by now, Nakamoto sensei practices the style of Shorin-ryu, also known as Shuri-te. According to legend, it once came straight from the Shaolin temple to Okinawa (hence the name, Shorin, which simply is Japanese for Shaolin). But in Okinawa, the Shaolin style evolved considerably, and therefore doesn't look like Shaolin Kung-fu today.
Shorin-ryu is a natural style compared to many other, more modern, styles. To illustrate this, Nakamoto-sensei shows the classic 'ibuki' breathing, famous from Goju-ryu, and says:  –This is not the way to breath in Shorin-ryu, and neither do we move like that. You're not tensed, but natural. You don't take your opponents force, you follow it. That's why Shorin-ryu is good for women, and short people.
And Nakamoto-sensei knows what he's talking about. He is quite short himself, even for an Okinawan, something which he often likes to joke about.
But his short size is nothing special when you compare it to his bull-like musculature. That's nothing to joke about. He looks really buff for a man of his size, but according to himself that hasn't always been the case. –As a young boy I was both very thin and short. In elementary school I was bullied by the other, bigger boys. When I one day came home crying, my father said: "Why do you come home crying? There are two kinds of people: Those who hide, are weak and get bullied, and those who are strong and fight."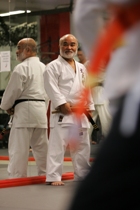 –I wanted to be one who fights, and I wanted to become strong, so I started practicing Karate. But when I was 9 years old, my father died. The family became poor, and I couldn't afford going to Karate anymore. So I started to train alone every day in the forest instead. Climbing and jumping from tree to tree like Tarzan, and lifting heavy rocks. But because I trained so hard and much, lifting heavy every day, I stayed short and never grew any taller. But thanks to my self-study, at least I learned how to fight. By the time I went to middle school I fought three tall guys, and won over them all, because I had become so strong.
But soon Karate came knocking on the door, again.
–Later I got into a fight with a kid who was both shorter and thinner than me. But he still won, because he did Karate! It came like a shock to me. "Wow, Karate is really good" I thought. Through that weaker and smaller boy, I understood that technique is most important, not strength. So when I was 20 years old, and had a job so I could pay for it, I once again went searching for a Karate school.
And that was the last time Nakamoto-sensei ever used his Karate skills in real life. He has never neededto use self-defense. –Through Karate your self-confidence grows, and at that point you strive for peace. The goal is to never have to fight, and never having to use Karate in real life. And in Okinawa, everyone knows I'm a Karate teacher, so nobody messes with me, he says.
Without smiling.
–When I was young, the goal was to learn how to win a fight. But when I got older, I started to gradually focus more and more on what was deep in my heart: How to act and how to respect people around you. More philosophy. And that's when I came to realize that Karate and Kobudo are valuable traditions that needs to be shared with the rest of the world, as much as possible.
Which brings us to the topic of travelling.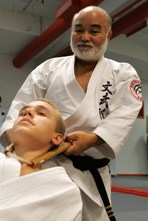 [continued in part 2]