Practising Karate it is unavoidable that one must use the Japanese language to some extent.
Rei, Hajime, Yoi, Yame… the list goes on.
We all use it.
Because it's practical and it sets us apart from other, more modern, martial arts.
But what about writing Japanese?
Shouldn't we be able to write some too?
I sometimes teach people to write their own names. That's pretty simple, since the characters for foreign names (katakana) are fairly easy to remember.
Here's my name, as an example: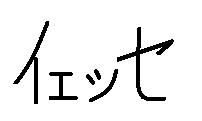 Fairly easy, right?
I don't really think you need to be able to write anything else in Japanese. Or, okay, maybe you at least should be able to recognize the word "KARATE":
The kanji for "empty hand" – Karate
Other than that, being able to write Japanese is not something the average Karate-ka really needs to focus on.
However, exploring the Japanese way of writing things that relate to Karate might help us to better understand the art we're practising. So, continuing on the kata theme from my last post, I though we could have a look at how the actual word 'KATA' is written in Japanese.
Try this: Pick up a Japanese kanji dictionary, and write 'kata'. Or just use one on the internet.

You will get around 16 hits.
In other words, there are 16 different Japanese characters (kanji) that are pronounced 'kata'.
I actually put them together for you right here: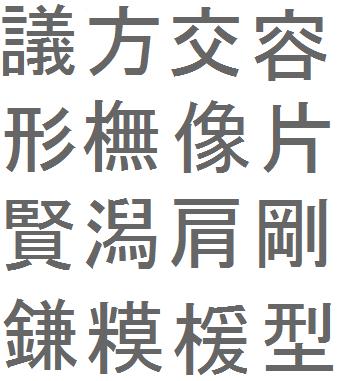 Quite cool huh?
So, do all of these mean shape or pattern? Can we use any of the above when we speak of the kata of Karate?
No, of course not.
These kanji are only pronounced 'kata'. That doesn't mean they all mean the same thing.
Look at these for example: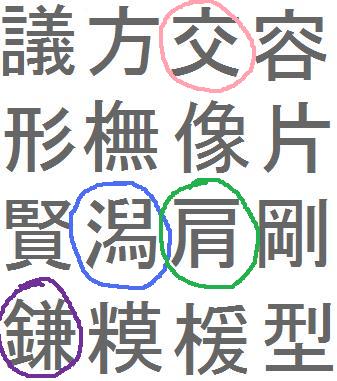 I tried to be pedagogical here, as you can see, choosing four random kanji and their meanings:
The pink one means "to mix, or blend". The green one means "shoulder". The blue one means "lagoon", and the purple one means "scythe or sickle" (yes, also pronounced kama, for you Kobudo geeks).
So clearly we can't use any of these for our Karate kata.
Which one is it we should use then?
Well, here's the catch. There are actually two ones!
Yup. See for yourself: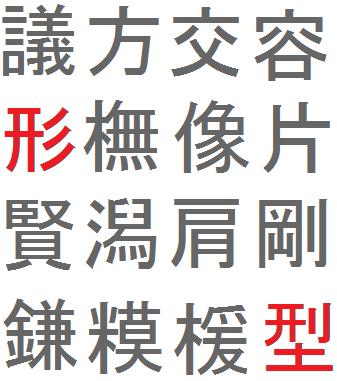 Throughout the history of Karate, these two kanji (displayed in red above) have traditionally always been used for the term 'kata'.
Some Karate masters used one, while some simply used the other.
Probably just to confuse us foreigners.
But…
Looking at the major Japanese Karate sites and magazines today, there seems to be one prevailing choice.
This one:

This character for kata is used basically everywhere!
(It's the uppermost of the two red ones.)
Buy a Japanese karate book, and this is the kanji they use. Look at the result from any Japanese tournament (for example at the Japanese Karate Federation's website), and this is the kanji they always use. Read an article in any Japanese Karate magazine, and this is the kanji they use.
The other character for kata seems to have been abandoned all alone somewhere in the dark dungeons of Sport Karate…
Nobody seems to use the other kanji for kata anymore:

Except me.
Yup, you read right.
Modern Karate magazines, books, organizations and teachers can use the first kanji how much they want to, but not me.
"Wow, you must have a great reason for that, right?"
Well, yes, I do.
There is a great reason. And better yet, it's evil too.

You see, to me kata is more than a mere form, mold or pattern. It is not an empty vessel. Because that is exactly what the first kanji means.
The kanji that everybody today uses.
Let's look at it again. As you probably know, different parts of the kanji have different meanings.
This is the the popular kanji, again. With an explanation of its parts: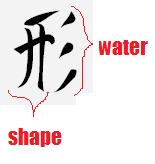 The kanji consists of two parts. The left part, meaning 'shape', and the right part, meaning 'water'.
Together they convey the message of something designed to hold water, like a vessel.
An outer form.
To me, that's something dead.
That's not kata.
So what's the meaning of the parts of the second kanji then? The one I prefer.
Let's see: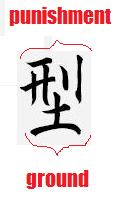 That's more like it.
The kanji for 'punishment'... above 'ground'.
That's kata to me.
Not just an old container, as the first kanji suggests.
Not a mere holder.
But a never-ending dishing out of punishment, both to yourself and your enemies, done in a routine on ground, which when put together ultimately gives the whole kanji the meaning of "pattern, style or form" as my dictionary kindly tells me.
I don't know about you, but I feel punished after every kata I do.
Mentally, physically, spiritually, emotionally…
Even socially.
You may, or may not, be interested in writing or even talking Japanese. But understanding the mindset and the 'cultural landscape' of it is crucial when dealing with Karate.
You see, there is kata…
And then there is kata.
Which one do you practise?