Are you looking for Karate gift ideas?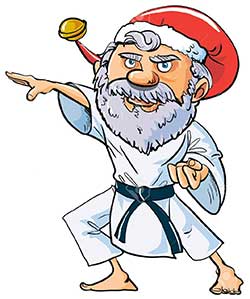 Awesome!
Today I've curated a list of 10 Karate holiday gift ideas for you. 🙂
These are perfect for Karate Nerds who strive to develop their mind, body and spirit in the pursuit of perfection.
I use everything on this list!
Check it out:
1. Agility Ladder
Explosive footwork and speed is crucial for performance. That's why the Agility Ladder is used by world-class combat athletes and sportsmen. Surprisingly, many Karate practitioners have not discovered this amazing tool yet! No matter if you're a traditional or modern Karate practitioner, the Agility Ladder is useful. Get it here.
2. Training Journal
If I told you there was a dirt cheap tool that could boost your Karate like crazy, would you believe me? All you need is a training journal. After each Karate class, write down what went well, what went bad, what you can improve, and what you learnt. Gradually, this introspective process takes your Karate to new levels. Get it here.
3. Seishin Gi
Silky smooth, sharp, snappy, stylish & incredibly comfortable. Used by Japanese and Okinawan masters, international champions and dedicated Karate Nerds worldwide. The 500+ 5-star customer reviews (!) says it all. Available in male, female, kids and black option. Free shipping worldwide. Get it here.
4. Wall Mount Makiwara
As a kid, I remember seeing old masters smash their makiwara, a traditional wooden striking post, in Okinawa. They had badass knuckles! All legendary Karate master used the makiwara. I recommend the wall mount version. It can easily be installed and be removed, with good cushioning to protect your joints. Get it here.
5. Strength Training for Karate
It's no secret that many Karate practitioners are held back by their physical limits. Strength Training for Karate is a progressive step-by-step resistance training program divided into 3 levels, specifically designed for Karate practitioners who want functional training to improve their Karate, strength and health. Download and put on USB for a great gift. Get it here.
6. Rumble Roller
In our quest for developing strength and power in Karate, we often lose our suppleness and flexibility. But hardness is useless without softness. Get a foam roller. My favorite is Rumble Roller. It loosens up your stiff connective tissue (fascia) to aid recovery. Get it here.
7. KNX18 Videos
KNX (The Karate Nerd Experience) is my annual seminar where dedicated Karate Nerds from around the globe gather to explore the art and science of Karate. This year's KNX18 takes place in Okinawa – the birthplace of Karate. The professional videos are now available to order. Get it here.
8. Resistance Bands
I've seen people use weighted vests for Karate training. That's good. But resistance bands are even better. Why? Because they enable multi-functional resistance exercises in the horizontal plane, which is more specific to the neuromuscular demands of Karate. You can strap the resistance bands to your wrists, ankles or waist. Get it here.
9. The Dow of Master Ken
From the creator of the hit web series "Enter The Dojo" with over 50 million YouTube views comes the most hilarious self defense book ever written. Master Ken (11th Degree Black Belt) explains his most famous techniques such as "The Hurticane", "The Thrust of Freedom" and, of course, the dreaded "Kill Face". Get it here.
10. Karate Flexibility & Mobility
Last but not least- my most popular online training. Thousands of Karate Nerds have used these 50 exercises to improve their range of movement to achieve those high kicks and deep stances they dream about. Great combination together with #5 for a strong yet supple body. Get it here.
_____
Happy holidays! 🙂
– Jesse