Today was my last day here in Okinawa.
Too bad.
So, of course I had to do one last sayonara-trip down the unbeaten path of Karate's dim history, which is very much alive right here in Okinawa – for those who know where to look. I actually don't know why, but somehow I thoroughly enjoy uncovering these facts that people chose not to include in history, because what is history if not just a bunch of facts people have agreed upon? What's interesting to me is finding those gems that were not agreed upon, and seeing how, if and why they change the picture we have always been painting, so to speak.
Which reminds me of something I wanted to tell you guys:
Beware of (some) history books on Karate/Kobudo.
Just because somebody has slanted eyes and eats with chopsticks doesn't necessarily mean that they have all their facts straight.
A recent examples I read myself: One book claims that the legendary Okinawan Karate pioneer Sakugawa "Tode" Kanga died in Shanghai, China. However, in reality he passed away peacefully in his native Okinawa, after having travelled from Shanghai to Miyako Island (looking for work) and then back to Okinawa. At least that's what Sakugawa's family here in Okinawa claims, and who knows best if not them?
Another example: The bo kata Ufugushiku no Kon wasn't some ancient kata created by 15th century martial arts genius Uni Ufugusuku. Sure, their names are pretty much alike, so it's not a far-fetched idea, right? Could be. But it's not. In reality Ufugushiku no Kon is a quite modern kata, created by bo-jutsu master Oshiro Chojo (Ufugushiku is the Okinawan pronounciation of the name Oshiro), for educational purposes (much like how the modern Gekisai/Fukyo kata were created by Miyagi Chojun and Nagamine Shoshin).
But hey, if an Okinawan 10th dan Goju-ryu sensei writes something in his book, it must be true, because he is automatically always right?
Give me a break.
I have some other examples too, but it's too nerdy for y'all, so let's leave it at this. The point I'm trying to make is that you can't just read about Karate/Kobudo and its history; You need to see it, hear it, smell it, touch it – and perhaps most importantly – feel it.
Be it.
That's what being a true Karate nerd is all about.
That, and training a lot. Or else you might as well be doing something else. To me the heart of Karate lies in training, no matter how much you study, read or research about its philosophy, tradition, theory, history or culture. It is my core belief that in order to "connect the dots" you have to train diligently yourself. Real, physical, training is what anchors – glues together – all this "strange fluff" I'm writing about, to be honest. That, and having the heart of a child combined with the head of an adult.

If it's one thing you should take from this post, it's the above stuff.
Anyway, let's get down to business, shall we?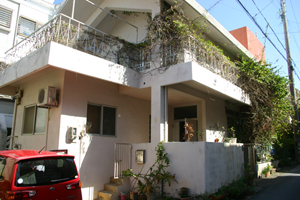 It was early morning when my Okinawan undercover Karate contact picked me up on Kokusai Dori (International Street) in his shiny red whip, which barely had room for my legs. The sun was shining hard, as if Okinawa was saying "Good bye Jesse-san! See you soon!", as we rolled to our first destination of the day.
The Funakoshi residence.
Yes.
You read right. (Shotokan people can push their jaws up now)
That Funakoshi.
I was going to pay my respects to the Godfather of Shotokan (after all, I'm the Blogfather, right?) and visit Miss Hiroko Funakoshi, age 78, wife of the son of the cousin of Gichin Funakoshi, or "Gichin ojisan" (Uncle Gichin) as she likes to call him.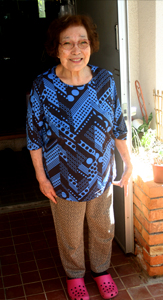 Miss Funakoshi, whose late husband went by the name of Gisho Funakoshi, was a little perplexed when she opened the door at first (like "Why is this unreasonably handsome foreigner knocking on my door with a big box of chocolates?") but quickly switched mode when she realized our business. Or maybe it was because of the chocolate, who knows.
Anyhow, although she is 78 years young, she is, according to herself "feeling very vigorous", even though her "knees hurt sometimes", a problem that seems to run in the family. She apologized roughly a thousand times for her messy house, explaining that she had gradually lost interest in cleaning "ever since her husband [Gisho] passed away", but to me it didn't matter.
I looked around with big eyes.
A huge altar with memorabilia dedicated to her husband told an interesting story, the story of a man who in his youth (summer of 1940) went to Tokyo to train under his "Uncle Gichin", or "Uncle Ufudunchi" as Funakoshi's honorary Okinawan name was, but was ultimately denied training.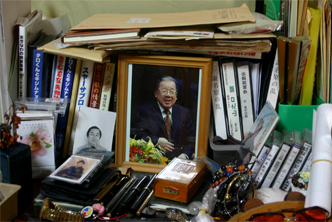 (In fact, Funakoshi Gichin seems to have been a man of many names, also going by the name of "Umigamii" as a child. Additionally, he had a Chinese name, something like "Yo Gijin", as customary in Okinawan warrior-class families. And then, of course, his famous nom de plume, "Shoto".)
Uncle Gichin had told young Gisho that he was so frail (weak knees, supposedly) that he might have a hard time keeping up with the other, stronger, university students and should "research about the true history and culture of Okinawa and Karate instead". Uncle Gichin had then told the boy all about legendary historical figures of the Ryukyus, like Sai On, Tei Junsoku and Heshikiya Chobin, which totally captured Gisho's attention.
Said and done, Gisho never enrolled in Uncle Gichin's Karate classes, but went on to stay for little over three years with one of Funakoshi sensei's sons instead (Giyu Funakoshi) residing in Tenjincho, Ushigome, Tokyo, trying to focus upon improving his writing skills. Here he made good friends with Gigo Funakoshi, Uncle Gichin's third son, who was supposed to become his father's successor one day. After the war Gisho eventually returned to Okinawa though, where he met and married miss Hiroko, who was now sitting in front of me on her sofa sipping green tea.
And judging by the altar at the house of Ms. Funakoshi, Gisho's writing career seems to have been nothing short of a success, amounting to around twenty different books on Okinawa and its cultural heritage, along with numerous awards and articles.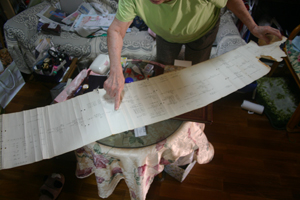 Hiroko herself was actually born in Taiwan, although her ancestors are from Okinawa. She is, quite proudly, a direct descendant of Yonabaru Dunichi – one of the three legendary "sanshikan" (the king's politicians) – which means that when she married into the Funakoshi clan she was of a significantly higher status than her (un)fortunate husband.
To quote Miss Hiroko herself; "I never had to do any cooking anymore! The Funakoshi's wanted to do everything for me!". However, she initially had a "hard time understanding them, since they spoke the Ryukyuan language", something which she had never learnt spending her youth in Taiwan, a place that was a bit safer than Okinawa at the time.
The discussion with Miss Hiroko was very interesting and revealing (apparently Gichin Funakoshi was not really fluent in Japanese at all! And in rare cases he got drunk, and even danced! He also loved telling crazy stories about the red-light district of Tsuji, together with his student Taira Shinken), but time flew by quickly and we eventually had to leave.
Miss Funakoshi was clearly feeling guilty about her "messy house" all the time, but was very happy to have had visitors over, since they used to have "many different visitors every day when Gisho was alive". Truth be told, my visit seemed to have been pretty emotional, twice she was almost about to cry. But Miss Hiroko insisted that we stay for a while longer, since she believed that it is important "that we let people know of the correct history".
So we did.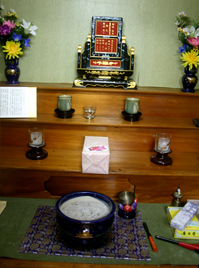 Anyway, to wrap things up, we kneeled down on the tatami floor, praying to the spirits of her ancestors, burned some incense, offered the chocolate on the altar (seriously!) and then took a couple of photos with Miss Funakoshi, which seemed to make her happy since she finally had an excuse to dress up a little.
As a side note, Hiroko was actually quite an artist, a fact made evident by the numerous pieces of art hanging around the walls. But the really interesting thing was that she only ever used three colors (red, blue and yellow), mixing them very carefully to create every other color and nuance she wanted to use. She had even had the pleasure of illustrating some of her husband's books.
Which takes me to the last surprise of this visit:
Speaking of books, as we prepare to leave miss Funakoshi , she suddenly tells us to hold on for a second, as she goes over to a pile of books (there were books literally everywhere!) and picks up a small book entitled "The Essence of Karate" saying that "the publishing company just sent me this the other day". The red book was a newly released translation of the writings of master Gichin Funakoshi, which I had seen in the bookstore the other day actually. "My husband wrote the afterword for this book, about his memories of Uncle Gichin. But… it is in English, so I can't understand anything. However, destiny has brought you to my home today, all the way from across the world just to learn more about traditional Karate. So, I believe this book was waiting for you.".
I didn't really know what to say.
My Okinawan friend looked at me, his face saying "WHOAH!".
Miss Hiroko opened it up, and said, "I will sign it for you. I'm a Funakoshi too, am I not? Now you will always remember me." she chuckled, as she carefully brushed her name in Japanese, "Funakoshi Hiroko", in the book and handed it over to me.
Somehow, at that moment, it felt like one of her nine grandchildren probably does at Christmas.
Awesome.
I blurted out some Japlish "doehmoeh arrigatouh gosighmushta" and tried a couple of clumsy bows as we hastily backed out of her house. A smiling 78 year old Hiroko Funakoshi waved us goodbye as we rolled out to the real world, feeling a bit strange.
What an experience.
After this visit we went to some other nerdy places, some graves, some historical sites, some food, and
finally some training and demonstrations with the mandatory sayonara party to end the night. Coincidentally enough, I ended up unknowingly sitting next to the grandchild of Karate master Higa Seitoku (!), who happily had me take a picture of him. He was cool as a cucumber.
Only in Okinawa!
And, quite frankly, after that I'm not really sure what happened, but I strongly suspect some evil ninjas must have mysteriously hit me in the back of the head with a nunchaku, because I woke up the next day with an epic headache. (That darn motherlover seems to have puked on my shoes too, probably while I was passed out!)
Anyway, that was the abrupt end of three sweet, but short, weeks in a very warm and non-snowy Okinawa, trying to better understand this whole "Karate" and "Kobudo" thing I supposedly "do". Now it's back to a lot of snow (nooooo!) and more work. Time waits for no man.
Somehow it seems that I leave with more questions than answers though…
Which, when I think about it, wouldn't be the first time.
And definitely not the last.
Okinawa, see you soon!