Take my black belt.

I don't want it anymore.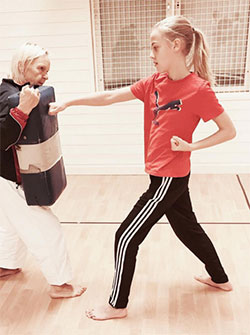 Yesterday we had a new beginner enroll in our dojo. As she stepped inside, I could sense her vibe – she was as scared as she was excited.
SWOOSH!
A wave of nostalgia flooded over me.
How beautiful to be a beginner again!
When a punch was just a punch…
It's funny – we spend years striving to achieve a high level in Karate. We want more knowledge, improved skills and advanced techniques.
Until we reach a point where we get fed up.
Stop it – it's too much!
We just want to puke out our years of "knowledge" and start over.
Yesterday I had that exact feeling.
When I saw that beginner, I wanted to BE her.
It sounds crazy, but I really wanted to be her!
I didn't know whether to laugh or cry. It was surreal.
For one moment, I would've traded my arm and leg to be in her position.
Imagine being a complete beginner again; uninfluenced by politics, competition, "styles" bullshit, organizations and dojo dogma.
Honest, pure & free!
Like they say in Japan: "shiranu ga hotoke".
The best English equivalent is "ignorance is bliss".
In the beginner's mind, Karate is full of amazing opportunities and unique questions. In the experts mind, it's full of absolute solutions and definitive answers.
(Often disguised as "tradition".)
Imagine NOT having to "know it all" anymore!
What a relief.
The legendary Pablo Picasso once said:
"Every child is an artist. The problem is how to remain an artist once we grow up."
This applies to martial artists as well.
That's why every black belt should teach beginners and kids.
Let me repeat that:
Every black belt should teach beginners and kids.
Not because you're forced by your sensei.
But because it's the #1 way to reach next level in your journey as black belt.
This is especially true if it feels like you "know it all" and aren't motivated or challenged by your regular training anymore.
You see, when you teach a beginner you're forced to think like a beginner.
You have to remove every stupid detail that interferes with the VERY ESSENCE of what you're trying to teach, and every word you say has to be 110% relevant to the situation.
It's mindfulness on crack.
Make it simple.
Simpler than that.
Even simpler!
Simpler, simpler, simpler.
To teach a beginner is to think like a beginner.
Gradually, you come to a realization:
The journey of Karate isn't so much about becoming anything.
It's about unbecoming everything that isn't you.
So you can be who you were meant to be.
Until one day…
…a punch becomes just a punch again.
And the circle is complete.
How beautiful.