3 stitches.
(No, that's not my new rap name.)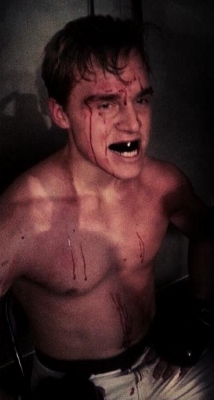 That's what I see in the bathroom mirror, ever since last Saturday when I decided to fight in amateur MMA.
The doc said I could remove the stitches in a week.
And then he asked me why I did it.
"Why on earth would anybody step into a cage and fight?"
I told him, because I like challenging myself.
Just as your muscles grow when you place them under stress, your mind grows when you place it under stress.
And believe me; there's no greater stress than staring into a 6'10" tattooed baldie on the other side of a tiny cage, ready to rip you a new butthole.
Yet…
As I sat there, getting my eye stitched together, my mind started racing.
Why did I fight?
What could a Karate Nerd™ possibly learn from fighting in MMA?
Check this out:
#1. Put Up or Shut Up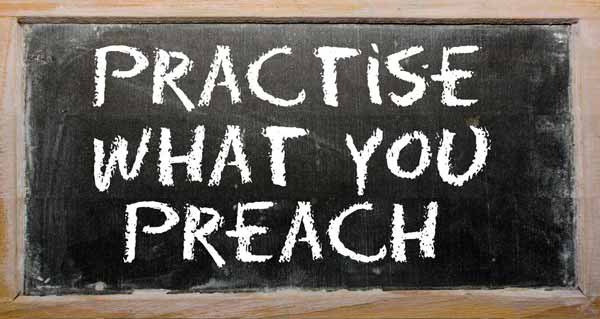 Tons of Karate people talk about MMA.
Some love it, others hate it.
But, no matter their stance on it, they all seem to have one thing in common:
They've NEVER tried it.
And if they have, it's probably been a beginners class in Brazilian Jiu-Jitsu.
They're what Japanese masters call "kuchi-bushi" (mouth warriors).
Needless to say, in order to have some credibility when speaking about full contact martial arts in general, and MMA in particular, I believe you should actually try it.
At least once.
Now…
Do I suddenly consider myself a hardcore Mixed Martial Arts fighter?
Not really.
Do I walk around in a black Tapout t-shirt and UFC hoodie?
Definitely not.
I'm still your good ol' Karate Nerd™!
But I don't believe you should talk the talk, unless you walk the walk.
"To believe in something, and not to live it, is dishonest."

– Mahatma Gandhi
Makes sense?
#2. Face Your Freakin' Fears
Call me crazy, but I have this weird philosophy:
If something scares you, it's a hint.
A hint from Universe that you have to do something about it.
I firmly believe that your mind, body and soul grows in correlation to the volume, type and intensity of the challenges you present it with.
(In a previous post, I referred to this as The Karate Compass.)
So…
If there is something you constantly fear, avoid or dislike, it's a pretty strong sign that you need to DO IT.
The sooner the better.
Your fear can range from the mundane (memorizing a new kata, hurting yourself in kumite, ripping your new gi pants) to the more esoterical (never reaching your true potential, not living up to your own/sensei's expectations, allowing the status quo to dictate your life) etc.
But, no matter what it is, your action plan remains the same:
Grab fear by the balls and squeeze until it taps out.
It's either that, or die trying.
Either I fought in MMA, or I remained a hypocritical wuss for the rest of my life.
It's the same reason I once competed in triathlon (without practicing a single day), or learned surfing in Hawaii (without any lessons either) or moved to Okinawa (without speaking Japanese).
The less prepared you are, the less safe it feels.
And that's the whole point.
Don't prepare.
Just go.
"Don't give in to your fears. If you do, you won't be able to talk to your heart."
– Paulo Coelho, The Alchemist
Face your fears.
PS. Read more about fighting fear in my interview with UFC fighter Alex 'The Mauler' Gustafsson.
#3. It's Only Failure if You Consider it One
There's this popular saying:
"Failure is not an option"
Wrong.
Failure is often the most readily available option there is.
And life, with its quirks and twists, presents us with numerous opportunities to fail each and every day.
The difference between a loser and a winner, then, is the way you respond to these inevitable opportunities for failure… or greatness.
Personally, I try to think like a scientist.
What other people call "failure" or "success" is just another data point.
Cold, hard, facts.
Either something works, or it doesn't. There's no need to attach overly negative or positive emotions to it.
A scientist must remain objective at all times.
"I never failed. I just found 10 000 ways that didn't work."

– Thomas A. Edison
You know you're on the right path when other people are more upset by your "failures" than you are.
It's only a failure if you consider it one.
So don't.
#4. Hakuna Matata
Remember The Lion King?
It's one of my favorite Disney films.
In it, you'll hear a song with the words "Hakuna matata" – a Swahili phrase that can be translated as "don't worry, be happy".
The song was written by Elton John, and was nominated for Best Original Song at the 1995 Academy Awards. That's how awesome it's message is.
Here's the thing:
Bad things WILL happen in life.
I guarantee it.
Somebody will knee you in the liver, scratch your Lamborghini or call you ugly.
Big deal.
Once you realize how little that matters in the grand scheme of things, you suddenly start feeling happier.
The trick is to find of method of emotional detachment.
At least in my case.
The less I care about a specific outcome, the less I limit my own potential.
I've written about this before, yet I'm constantly relearning it. It seems to be a universal law that lessons in life will be repeated until they're learned, doesn't it?
In any case, it's all about letting go of attachment.
Even the old samurai knew this:
"Those who cling to life die. Those who defy death live."

– Uesugi Kenshin (1530-1578)
Hakuna.
Matata.
And that concludes these 4 lessons I learned from getting my a** kicked in MMA.
Luckily I survived…
…so I could share this with you.
Thanks for reading! ; -)