Question:
Have you ever got into trouble for telling people you practice Karate?
That's what I asked on my official Facebook and Twitter page recently.
The response?
Overwhelming.
Although someone jokingly replied "Only with my wife, Mrs. Karate Widow", and Adam S. Kovacs (World Games kumite champion) replied "All the time with my parents!", most people seemed to have gotten into genuine trouble – including physical altercations and life-or-death situations – merely by telling the wrong person, at the wrong place, at the wrong time, that they practice Karate.
Crazy.
And then we had a few people who were dumbfounded by my question:
"Jesse-san, why should it cause trouble if I tell somebody I practice Karate?"
Clap.
Clap.
Clap.
I applaud your faith in humanity.
But you're right.
Why should it?
Because, in a perfect world, it shouldn't.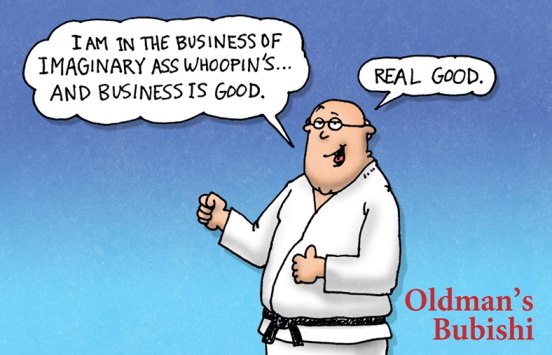 You should be able to tell anybody that your passion is Karate and there should be no negative consequences at all. In fact, you should be able to pursue any activity, and as long as you are not harming anyone, people should be fine with that.
Right?
Well, I don't know how to put this, but…
We don't live in a perfect world.
We live in a world where douchebags exist. Sad, negative, wicked people who are constantly looking for a reason to unleash their predatory instincts. People who are so trapped in themselves that they need to spew their primal judgement on you.
Now, you might think I'm over-exaggerating a bit.
I am.
But also, I'm not.
Take my story for instance:
When I was in 3rd grade, I told a kid that I knew Karate and could kick his ass. My father overheard me when he picked me up from school and said I was "a bully."
I was flabbergasted.
I hated bullies!
Shortly thereafter, the kid died from cancer.
I vowed to never use Karate to hurt anybody emotionally again.
Years later, in 6th grade, it was my turn to get bullied instead. An obnoxious kid asked me to use Karate on him one day, but I told him I didn't want to.
So he grabbed my wrist and yelled: "Whatchu gonna do, Karate Kid!?"
I snapped his wrist down, applied a joint lock and took him to the ground.
Big.
Mistake.
For several weeks he kept provoking me to use more Karate on him, by slapping me hard on the head. Day after day. Week after week. It never ended.
But I kept my composure.
I didn't want to hurt him.
On the inside, I felt like sh*t though.

It all ended abruptly one day when I came home and cried to my mom. A couple of angry phone calls later, everything was smoothly solved and we became friends.
I vowed to never use Karate to hurt anybody physically again.
Now…
You might think: "Jesse-san, that's cute, but you were unlucky. This doesn't apply to me!"  
Clap.
Clap.
Clap.
I applaud your naïvety.
A quick glance at the response I got from my initial question on social media clearly shows that this is real folks – for many people just like you.
But don't take my word for it.
Read yourself:
This was sent to me by @karatekidDiego on Twitter.

Arian Ryan: "When I younger, that was a guarantee of being challenged to a fight by every meathead in school. Like an invitation for weirdos to tell all about their extraordinary martial arts prowess (11th degree gold belt in ninja, etc.).

Oh, and one time I tried to practice nunchaku on the beach at sunrise, and the police drew their guns on me. But that's a different thing."
Jared Avery Michaels: "I started working for a private security company part-time that my roommate already worked at. When I was hired, the management already knew I had training, because I was training my roommate, and we were discussing using the office to teach out of. [..] The Ops Mgr walked up to me after I signed on for the regular work, and just said my name, then threw a punch. High wrist block and snap kick to the groin later, he tried to write me up for assaulting him."
Ryan Banfield: "Absolutely. I'm sure that every person on here who's practiced in their early 20's has regretted casually mentioning you practice martial arts in a social environment, especially when liquor is present, because inevitably, the next statement will be "show me what you know…"
Brad Weston: "I have actually been refused an employment opportunity because karate is "violent"!"
Enough.
As you clearly see, there are consequences to telling people you practice Karate.
Consequences that could be positive.
Or negative.
Depending on how, where, when, how and to whom you say it.
So…
Does that mean we should never-ever-ever tell people we practice Karate? Should we walk around silent, afraid, paranoid and ashamed of our beloved martial art?
Of course not.
I think a good question to ask is: "Why do I need to tell people I practice Karate?"
To brag?
To feel good?
To make a statement?
Once you realize why – and for whom – you're really practicing Karate, you'll automatically decrease your amount of unnecessary Karate talk.
Believe me.
"An empty vessel makes the most noise."

– The Bubishi
Karate is a highly personal journey.
And the last time I checked, you didn't get further by talking about it. That's why you should try to avoid telling people you practice Karate, unless they ask you.
Frankly, it's none of their business anyway.

Karate means "empty hand" – not "empty head".
Just do it.