I sometimes get asked questions like "I want to read some books on Karate, what do you recommend?" and I always find it hard to give a good answer.
There are so many great books, on everything from history and philosophy, to the techniques and methods of Karate that most people don't really know where to start.
And if they start with the "wrong" book (to advanced, too strange, too esoteric or too boring), chances are they will be discouraged from further study!
So yesterday I was thinking: "Is there something I think everyone who trains Karate should have read? Is there some kind of mandatory reading?" and one of the first things that came to mind was…
"The Twenty Guiding Principles of Karate, by Gichin Funakoshi".
Though it's not really a book. But several books have been written about it.
Here's a picture of the original: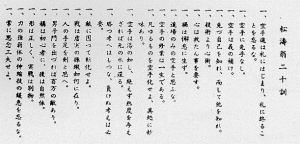 I mean, imagine being able to read twenty important Karate principles, or "rules", that one of the most famous pioneers of Karate wrote himself.
To not to be interested in this text would be really strange, no matter what style, organization or dojo you belong to!
And the great thing is, you don't really need to buy a book to read them, because I am about to serve them to you in just a minute.
But let me tell you a short story first, as an introduction to "The Twenty Guiding Principles of Karate".
Three years ago, when I was about to do a Karate trip to Japan, I got a seemingly great advice from a famous Karate researcher:
"If you really want to see the Funakoshi Karate stone monument in Kamakura, you should take the train from Tokyo to Kita-Kamakura, and then take a pleasant walk through the forest to the Engaku-ji temple in Kamakura, where you will find Funakoshi's monument."
Sounded like a great advice. I mean, a pleasant walk in the Japanese countryside, what could be better?
But the "pleasant walk" proved to be not so pleasant.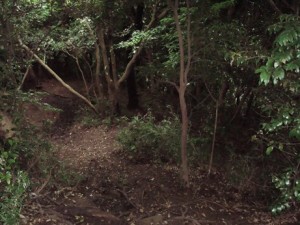 It was basically like slipping and sliding through a damp, muddy, dark jungle.
Filled with killer bees!
But the view was nice, occasionally: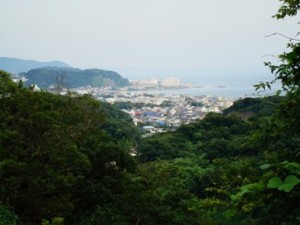 Anyway, after a few grueling hours, we finally reached the Karate monument dedicated to Funakoshi Gichin, founder of Shotokan-ryu Karate.
It's located in a nice place, in some kind of a park.
This what it looks like: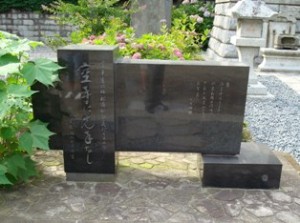 This memorial to Gichin Funakoshi was erected by the Shotokai organization, here at Engaku-ji, on December 1, 1968, so it's quite modern, when compared to other Karate sights (like in Okinawa).
The design of the monument is nice, and very "clean", featuring calligraphy by Funakoshi himself – which reads "Karate Ni Sente Nashi" ("There is no first attack in karate"). According to sources, that was Funakoshi's favorite proverb, and it also happens to be the second of Funakoshi's Twenty Precepts.
Here is a close up: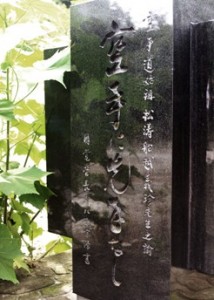 To the right of Funakoshi's precept is a copy of the poem he wrote in 1922, which really encompasses his (split?) feelings towards modernizing Karate.
It reads:
"To search for the old is to understand the new
The old, the new
This is a matter of time.
In all things man must have a clear mind.
The Way:
Who will pass it on straight and well?"
The second stone features an inscription by Nobuhide Ohama and reads:
"Funakoshi Gichin-sensei, of Karate-do, was born on June 10, 1870, in Shuri Okinawa. From about eleven years old he began to study Toudi-jutsu under Azato Anko and Itosu Anko. He practiced diligently and in 1912 became the president of the Okinawan Shobukai. In May of 1922, he relocated to Tokyo and became a professional teacher of Karate-do. He devoted his entire life to the development of Karate-do.

He lived out his eighty-eight years of life and left this world on April 26, 1957. Reinterpreting Toudi-jutsu, sensei promulgated Karate-do while not losing its original philosophy. Like bugei (classical martial arts), so too is the pinnacle of karate "mu" (nothingness): to purify and make one empty through the transformation from "jutsu" to "do".

Through his famous words "Karate ni sente nashi" (There is no first attack in Karate) and "Karate wa kunshi no bugei" (Karate is the martial art of intelligent people), sensei helped us to better understand the term "jutsu".

In an effort to commemorate his virtue and great contributions to modern Karate-do as a pioneer, we, his loyal students, organised the Shotokai and erected this monument at the Engaku-ji."
And with that introduction done, here are "The Twenty Guiding Principles of Karate, by Gichin Funakoshi". There are different translations, of course, but this is the most widely used.
And hey, don't just read them.
Think.
1. Karate-do wa rei ni hajimari, rei ni owaru koto wo wasuruna.
Karate begins and ends with courtesy.
2. Karate ni sente nashi.
There is no first attack in karate.
3. Karate wa gi no tasuke.
Karate is an assistance to justice.
4. Mazu jiko wo shire, shikoshite tao wo shire.
Know yourself first, before you know others.
5. Gijutsu yori shinjutsu.
Spirit before technique.
6. Kokoro wa hanatan koto wo yosu.
Be ready to free your mind.
7. Wazawai wa getai ni shozu.
Accidents come from laziness.
8. Dojo nomino karate to omou na.
Karate training goes beyond the dojo.
9. Karate no shugyo wa issho de aru.
You will never stop learning in karate.
10. Arai-yuru mono wo karate-ka seyo, soko ni myo-mi ari.
Apply karate to everything. Therein lies it's beauty.
11. Karate wa yu no goto shi taezu natsudo wo ataezareba moto no mizu ni kaeru.
Karate is like boiling water. If not given heat, it will go cold.
12. Katsu kangae wa motsu na makenu kangae wa hitsuyo.
Do not think of winning. Instead, think that you must never lose.
13. Tekki ni yotte tenka seyo.
Make adjustments according to your opponent.
14. Tattakai wa kyo-jitsu no soju ikan ni ari.
The outcome of a fight depends on how you handle weaknesses and strengths.
15. Hito no te ashi wo ken to omoe.
Think of hands and feet as swords.
16. Danshi mon wo izureba hyakuman no tekki ari.
When you step outside your own gate, you face a million enemies.
17. Kamae wa shoshinsha ni ato wa shizentai.
Fixes positions are for beginners: later, one moves naturally.
18. Kata wa tadashiku jissen wa betsu mono.
Kata is practised perfectly, real fight is another thing.
19. Chikara no kyojaku, karada no shinshuku, waza no kankyu wo wasaruna.
Hard and soft, tension and relaxation, quick and slow, all connected in the technique.
20. Tsune ni shinen kufu seyo.
Think of ways to apply these precepts every day.
———————–
I could write a whole post about each one of these precepts! They contain so much knowledge.
However, I strongly feel that everything shouldn't be explained all the time.
Read, and you will remember.
But think, and you will understand.