This is part 3 of 'Siam – Discovering Karate's Forgotten Source'. If you haven't read part 1 and part 2, go ahead.

I'll wait.
"Hurry up, we're going to miss it!" I scream, as you gather together all of the juice, bread, fruit and other stuff we've just bought for nearly nothing, at the nearby supermarket.
"Help me pack then, if we're in such a hurry!" you frantically scream, as the line is getting longer behind you.
"Sorry, I can't, this book got me totally paralyzed, dude!"
I'm reading it again.
Okinawa – The History of an Island People.
Finally you pack our groceries down, and we hurry back to the camp. Today is our last day here in Thailand, or Siam as it was once called, and I'm pretty excited.
You are too.
"So, is it true that we're going to be slashing away with swords, daggers, spears and sticks today?" you ask me as we approach our bungalows.
The sun is strong today.
"You're absolutely correct. This noon we're going to learn even more on the possible "lost roots" of Karate, with special emphasis on the weapon arts, along with some other exotic features."
"Great! I can't wait!" you exclaim.
I continue, "You see, though most Karate people today only practise weapons very rarely – and in those rare cases only as some sort of freakish cross-training – the Muay Boran people have kept that elements as a vital part of their martial art. And sources tell of similar Okinawan traditions, before the famous era of bladed weapons being banned in the Ryukyu's."
You look surprised.
"What? You mean the Okinawans had all kinds of different deadly, sharp weapons? I thought they only had these farmer tools, like sai, bo, kama and tonfa, you know?" you ask.
"Not really. And those "farmer tools" which you speak of we're never even farmer tools to begin with! They were merely disguised as such later on, for obvious reasons. Originally, the weapons of Okinawan Kobudo were all designed for hardcore combat, with a few notable exceptions, like the kama – which is still used in farming today – or the kuwa." I reply.
"The kuwa? What's that?" you ask, as I unlock the bungalow door.
"A hoe" I reply.
"Oh…"
We unload our groceries on the table in my bungalow.
They have so many crazy soft drinks in this country!
"I'm confused… " you suddenly say.
I toss you the book.
"There, just take a quick look at some stuff that G. H. Kerr writes, and you will get a clearer picture of the "un-armed, peace loving" people of Okinawa, okay?" I assure you, as you start flipping through the tome.
Your read an account by some Portugese traders, written in the 1500's:
"They [the Okinawans] are great draftsmen and armourers. They make gilt coffers, very rich and well made fans, swords, many arms of all kinds after their fashion… They are men who sell their merchandise freely for credit, and if they are lied to when they collect payment, they collect it sword in hand… They are truthful men – more so than the Chinese – and feared."
"Whoah… it seems they we're pretty impressive people, these Okinawans!" you say, looking either shocked or amused.
"Well, it get's even better. Keep reading." I tell you.
You continue.
It's a powerful paragraph.
"… they carry long swords after the fashion of Turkish cimetars, but somewhat more narrow, they also carry daggers of two palms' length; they are daring men and feared in this land."
"Turn page. There's more. From a 1569 record of China, in which the Dominican father Gaspar da Cruz wrote about the Okinawans" I tell you, as I crack open a 'New Mirinda Soft Drink Thailand – Green Cream Soda'.
You read.
"They use weapons and wear very good short swords."
"That's so cool! It seems as if the Okinawans were some kind of armed masters of the sea! Ocean warriors! Aquatic samurais!"
"Indeed it does… and today we're about to practise the same techniques, with the same weapons, that they probably practised back then! Though these techniques were never handed down to present day in Okinawa, like they've been here in Thailand. Well, except for one weapon…" I say, with a smirk on my face.
"Yeah, that secret Kobudo weapon, I remember. I guess I'll see it later then. When does the training start anyway?"
[time warp]
Now.
We're in Muay Boran class again, and the sun makes it feel like a sauna under this tin roof.
This time even more foreigners have been invited.
The training starts with something the teacher refers to as "Lom Pran".
"I think he means 'meditation'", you whisper to me, as we're sitting in lotus stance, trying to focus on "being empty". We are around twenty students present, and the teacher – who sits in front of the class – seems to have an assistant with him today.
"Of course, you tool, 'Lom Pran' is just the Thai word for it! 'Pran' is the word for energy or life force, while 'Lom' means wind. In this case, it means breath. It's like some Qi Gong or something, you know? So don't hold you breath, because we're going to sit like this for a while I suspect." I whisper back, trying to locate my inner sanctuary.
We close our eyes.
Our hands, which are holding wooden sticks, are kept on our knees. These are actually the same sticks that are going to be used later on for some pretty deadly stuff. In Muay Boran they don't have any special moving meditation or breathing exercises, like the Sanchin kata from Karate, or Saam Chien from kung-fu.
They just sit like this for a couple of minutes.
Fair enough…
We now put the sticks to the side and begin some weird dance. It's clearly a form of shadow boxing, but not your usual shadow boxing. "Doi Lom" the teacher says.
"Wind punching".
Since we are just beginners we kneel down on the side and observe. It's pretty easy to identify many of the techniques, even though they flow very smoothly into each other. You notice punches, kicks, knees, elbows, the occasional headbutt, a couple of eye gouges and even some kind of wheeling kick (where they put one hand on the ground and kick the neck of the imaginary opponent with the other leg).
Doi Lom is the essence of Muay Boran.
"Wow, that's pretty awesome" you say, looking closely at the teacher while he "wind punches", though there's clearly more to it than mere punching.
"You know, I heard they even have makiwaras here!" I suddenly say.
You still can't take you eyes off the wind punchers.
"But not the kind we're used to though. You see, they actually used to go out to the jungle, find a banana tree, and start kicking, punching and striking it! It's crazy! Well, of course they don't do that anymore. Nowadays most people just use a regular heavy bag" I continue.
"Waah! Hey, did you see that kick?!" you suddenly exclaim. "He did a full kneeling spin and kicked with his heel or something! Cool!"
As we were later told, that kick was a move known as "crocodile swings its tail". Many of their techniques are named after animals, or animal movements. For example, the "monkey guard" was especially interesting because you only use it when you want to get really close to your opponent, like when you want to push somebody back and run them over with a flying knee strike.
At least that's what the teacher showed us.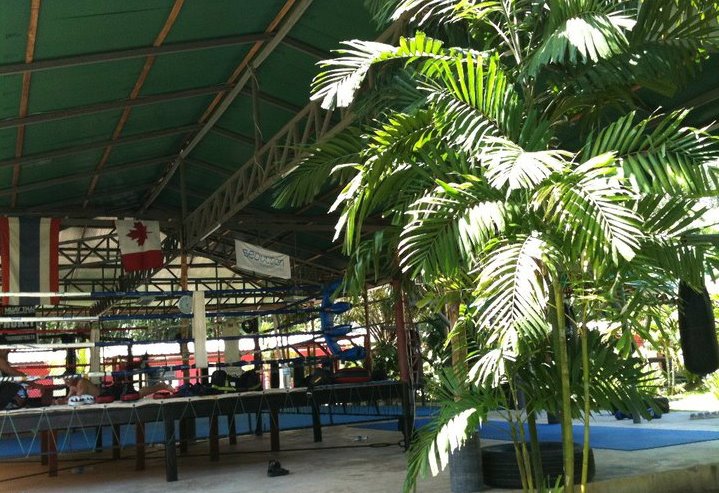 "Okay, pick up your sticks."
Things were about to go down. We fetch our sticks.
The teacher explains that with the sticks, we always need to strike through. Not like with the short swords, where we want to pull back each attack in a circular motion to inflict a bleeding wound.
Nope, with the sticks it's all about crushing.
The teacher goes on, explaining that when using the double sticks, the main target is the neck, along with the eyes and big joints.
"Always attack critical points. The eyes are your opponents primary aid, so take them away from him"
He demonstrates on his assistant.
The instructor then tells a story about how we should aim for the side of the knees instead of straight on, if we for some reason were chased through the jungle by Thai soldiers. This, he ensures us, will make our sentences lighter when we are finally captured by the militia.
You look at me like "This guy is insane!" and I silently nod back.
You just don't make something like that up!
Anyway, the basics of Muay Boran stick fighting (or Krabi Krabong as it is more formally known as) are pretty self-explanatory. Hit, and don't get hit back. Don't grab the stick too hard. Don't grab the stick too lightly. Rather, the instructor tells us that we should imagine holding a small bird in our hand.
Squeeze too tight and it dies.
Hold too loose, and it flies away.
And the same goes for all the other weapons.
So far so good.
"Hey, this is just like that Filipino escrima stick fighting that I learned from Youtube once…" you begin, as we're practising basic strikes and swings in the air, but quickly shut up when the teacher tells us to always hold the stick in the middle, and never in the end.
"Wh-What?!"
This is because the stick is used much like a knife (stabbing motions) in one end, but a regular stick (swinging/chopping/striking motions) in the other end.
"That's interesting…" you mumble, attempting some stabs in front of you.
The ready position (which Karate people would call "yoi") is with the sticks at the hips, both pointing at the enemy.
The teacher screams something in Thai.
We assume "horse stance", and do the basics, almost like yesterday. But this time with sticks of course. Techniques include blocks ("always block 45 degrees, so the strikes flow off your stick"), evasive manouvres, and some crazy neck strikes.
In every technique, the basic rule seems to be that the sticks should always be pointing at the enemy, irrespective of what technique you are doing (block, strike, chop etc.) Another rule seems to be that every strike starts from your centerline, which you aim to protect at all times.
"That's like Wing Chun!" you whisper to me.
"Yeah…"
Now it's time for knife defense.
The techer demonstrates several drills against the knife, and he seems to always want to touch the head of the attacker. A little poke here, a small strike there… Whatever opportunity he has, he uses. He tells us that as long as we have secured the knife hand, everything else is pretty much up to us.
He goes on, by demonstrating several takedowns (every defense ends with a takedown) and even a standing armbar, which most people would call a "kimura" or "ude garami".
You conclude that it's all very much like the Karate we're used to.
Then we pair up.
It's time for free sparring.
(Yes, beginners actually sparr freely with weapons!)
You decide to look instead, since you feel like keeping your fingers intact. The camera goes up, and you manage to grab a photo of a Swiss guy and girl sparring.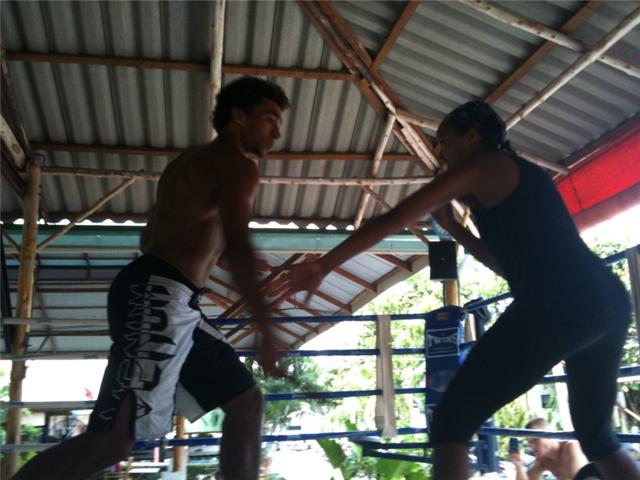 "Take it easy guys, we don't want nobody to get hurt!" you tell them, half jokingly, wondering how many beds the instructor has reserved in the local hospital.
But it was okay.
Nobody got hurt.
(Except maybe that Spanish guy in the corner who the teacher took down by literally ripping his ear off! Brutal!)
And that's when you saw it.
It.
The weapon.
Sticking our from our instructors sweaty bag, two big wooden handles catches your attention.
"Is it…? It can't be…? It HAS to be!" you quickly put down the camera and sneak over to the teachers bag. He is busy stabbing the poor Spanish guy who's lying on the floor, so he doesn't really notice you.
But I do.
And yes, it's exactly what you thought it would be.
Among a plethora of different knives, swords and a spear head, you discover a pair of wooden tonfa.
"Oh. My. God. This is what Jesse was talking about earlier! The Kobudo weapon!"
I sneak up behind you.
"Oh, I see you've found the Mae Sun Sauk! Well done!" I commend you.
"If you mean the tonfa from Okinawan Kobudo, then yeah, I've found them! Do they actually train with these here? How awesome is that?!"
You're thrilled.
You grab the handle, trying to sense its weight.
"Yes, they do. The tonfa, or 'Mae Sun Sauk' as it is called here, is on of the more advanced weapons of Krabi Krabong. In fact, they always remind me of a special Kobudo dojo in Okinawa, where the tonfa is considered so advanced that it is a 4th dan weapon! It seems to be something similar here, though they don't really have the belt system like we do."
"But… it looks kind of strange. In fact, it looks exactly like the old Okinawan version! Is it?"
"It seems so. Actually, in Thailand they have many different versions of the tonfa – some have two handles, some have three. And some are even made of bone! In Okinawan Kobudo we generally use the one-handle version though, and a much smaller one" I explain.
The Mae Sun Sauk is quite thick, and looks almost like an oar blade with a handle attached to it.
"Whoah…"
You're trying to hide your overwhelming feeling of awesomeness.
You're not really successful.
"But how do they use it? Like we do?" you ask, flipping an imaginary tonfa in front of my face.
"Well… sort of. They actually use a lot of elbow techniques, which we don't! And the funny thing is, one of the legendary Kobudo pioneer Taira Shinken's most famous students, Inoue Motokatsu sensei, actually writes in his old book on tonfa that 'the techniques of tonfa are of the elbow system' although we hardly see any elbow techniques in Okinawan Kobudo today! Isn't that strange? Clearly this application principle has been lost somewhere on the way, even though in theory it seem to exist."
Resisting the temptation to feel the flapping wings of history by trying a tonfa kata with the Mae Sun Sauk, we quickly sneak back to the other people, smoothly blend in and resume training.
Luckily, the teacher never noticed us.
And that's when class ended.
Just like that.
For some reason, the teacher disappears in a semi-mysterious way, and we never get a second chance to ask him any more questions about the ancient Siamese art of Muay Boran.
It's over.
We change clothes, return the sticks and knives, thank everyone and leave for our bungalow. It has been raining.
Our flight leaves tonight.
As we're walking along the side of the road, thinking about what we've seen these past days, you're acting remarkably quiet.
"What's up? You're acting quiet!" I say, trying to cheer you up. I look at you, and I know you've been through a lot lately.
It seems the history of Karate is not as simple as you thought it was.
"I'm just thinking…" you reply, staring mindlessly down at your feet. The hypnotic sound of our backpacks bumping against our backs feels comforting.
We're interrupted by some Thai men shouting behind us.
"Oh no! They must have found out you touched the teachers tonfa!" I scream jokingly!
"Hide! Get down!"
We turn around.
And we both laugh.
You reach back, grab your camera, and snap the last photo of the trip.