Snap!
Crack! Pop!
The sounds of Rika Usami's techniques cut through the air, as innocent bystanders are blown away by her world-class kata performance.
They can't understand how she does it.
Her snappy movements are ridiculously impressive.
And, truth be told, few World Champions have come close to her level since she abruptly decided to retire in 2012, revealed when I famously interviewed her right after she won the WKF (World Karate Federation) world title.
Don't believe me?
Check this video out:
(PS. More videos HERE.)
As you can see, even when she's casually giving a seminar demo, Rika Usami has an incredible power for her body size – not to mention deadly grace and spirit.
No wonder people keep e-mailing me questions about her!
Like…
How *exactly* does she do it?
What is the secret to her "snappy" techniques?
Can anyone learn this?
Today I'll answer these questions, and much more.
Follow along, as I explain the secret principle that enables Rika Usami to boast such impressive technique – as told and shown to me by Rika-san herself.
If you have experience with traditional Okinawan Karate, you'll recognize a lot.
You see, it's all about ONE very special principle.
Introducing…
"The Whip": Rika Usami's Snappy Secret
Imagine a whip.
Seriously. Imagine a bullwhip.
You know – those long things made of leather that you secretly use in the bedroom cowboys use in movies, as made famous by Indiana Jones.
Now, consider this:

A whip is thin, right? It's flexible too, and doesn't weigh a lot.
Yet, a regular bullwhip is capable of generating enormous amount of power, merely from cracking it with your arm and wrist!
So…
How does this relate to Karate?
Well, to crack a whip powerfully and accurately, you don't really need a great deal of strength. That's why small people can do it effectively. If the technique is correct, the physics of the whip will allow the cracker to reach supersonic power with relatively little effort.
This knowledge is PURE GOLD for Karate practitioners.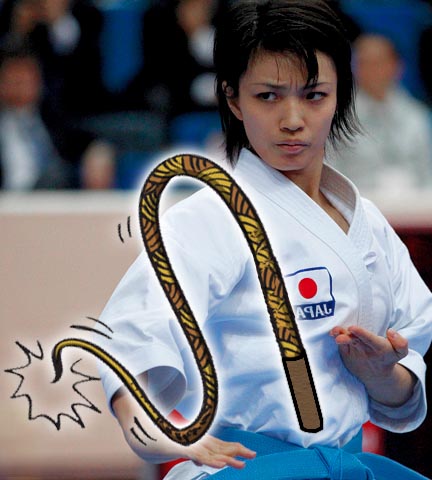 Why?
Because if you learn how to mimic a whip with your body, you'll be able to generate massive amounts of power without the need for excessive strength or tension.
That's why Usami, a woman of pretty modest size, can have such snap in her techniques.
But, in order to become a "living bullwhip", you first need to understand how power is most efficiently generated.
Allow me to explain:
According to Inoue Yoshimi, the sensei of multiple world champions (including Antonio Diaz and Rika Usami), three vital components have to be present in your technique to generate maximum power with minimum effort.
These could be referred to as the "three principles of optimal technique".
And they are…
Speed – the ability to move quickly when initiating, accelerating and stopping your techniques. This requires an understanding of how to adjust your physical and mental a) relaxation b) tension/pre-tension in the right body parts.
Timing – the ability to dictate interplay (start/stop) between a) upper/lower body, b) right/left body half, and c) posterior/anterior kinetic chain, i.e. timing between foot/hand when stepping, hikite/striking hand, kime etc.
Balance – a natural instinct, hardwired to circumvent many motor skills, and hence of utmost importance to control in order to avoid draining energy from other parts of your system. Balance implies both your stance, posture, trajectory of movement, end-positions and being physically/mentally centered.
Together, these three principles will give you…
POWER.
Which is then expressed through the whip concept.
Here's how it works:
Rika Usami says that the center of your body should be the "shaft" of the whip.
So, imagine a line going through your body from the top of your head to the floor.
This shaft is what you twist, in order to crack the whip and generate the power that travels outward; from your center (shaft) to your fist, foot, knee, elbow or any other tool of impact. The "snap" sound is just a by-product of this process, not the goal.
As a practical example, in the first half of this video, you can see Inoue sensei explaining a typical "whip" exercise using world champion Antonio Diaz.
Check it:
Conclusion?
If you want to have "snap" in your techniques, you first need to focus on correct technique (speed, timing and balance) in order to generate enough power to crack your body like a human bullwhip.

Sounds hard?
That's because it is.
But everyone are 103% capable of learning this skill.
And now that you got the theory down, the rest is just practice.
One day, you might be able to snap your techniques like Rika Usami too.
I believe in you.
Good luck!