Look up the word 'Karate Globetrotter' in the dictionary, and chances are big that you won't find it.
However, if you would find it, I'm pretty sure that it would be divided into two parts: One for the people who get paid for being a 'Karate Globetrotter'… And one for the people who don't.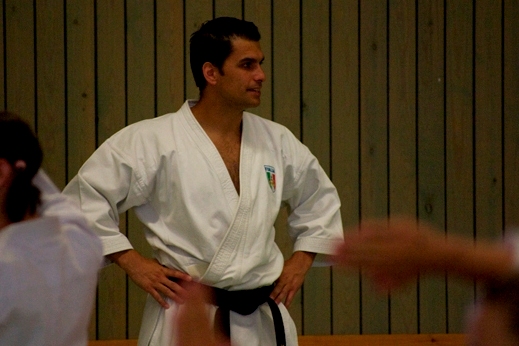 And sadly, next to that last part there would most likely be a huge picture of me sitting on a plane with my laptop and gi (backpack full of books!) headed to some far away country to explore the hidden depths of Karate in some bizarre way.
So, as self-appointed king of backpacking Karate vagabonds, this weekend I decided to travel a bit.
Today, yesterday, and the day before, I went to Finland to attend my first seminar ever with the one and only Luca Valdesi, a man who needs no introduction if you know anything about the world of Sport Karate.
(And no, I don't do Shotokan Karate, but does it really matter?!)
For those of you who don't know, his merits include:
Place
Tournament
Discipline
Date
1.
European Championship 2010
kata male
07.05.2010
1.
Italian Open 2010
kata male
09.04.2010
1.
World Games 2009
kata male
25.07.2009
1.
European Championship 2009
kata male
08.05.2009
1.
Italian Open 2009
kata male
03.04.2009
1.
World Championship 2008
kata male
13.11.2008
1.
German Open 2008
kata male
27.09.2008
1.
European Championship 2008
kata male
02.05.2008
1.
Italian Open 2008
kata male
04.04.2008
1.
Podgorica Open 2007
kata male
15.12.2007
1.
German Open 2007
kata male
15.09.2007
1.
European Championships 2007
kata male
04.05.2007
1.
Italian Open 2007
kata male
31.03.2007
1.
World Championship 2006
kata male
12.10.2006
1.
Austrian Open 2006
kata male
30.09.2006
1.
German Open 2006
kata male
23.09.2006
1.
European Championships 2006
kata male
05.05.2006
2.
Italian Open 2006
kata male
25.03.2006
1.
Dutch Open 2006
kata male
10.03.2006
1.
French Open 2006
kata male
14.01.2006
1.
German Open 2005
kata male
17.09.2005
2.
World Games 2005
kata male
23.07.2005
1.
European Championships 2005
kata male
13.05.2005
1.
Italian Open 2005
kata male
09.04.2005
2.
Dutch Open 2005
kata male
12.03.2005
1.
World Championship 2004
kata male
18.11.2004
1.
European Championships 2004
kata male
07.05.2004
1.
European Championships 2003
kata male
09.05.2003
1.
European Championships 2002
kata male
03.05.2002
2.
World Games 2001
kata male
18.08.2001
1.
European Championships 2001
kata male
11.05.2001
3.
World Championship 2000
kata male
12.10.2000
1.
European Championships 2000
kata male
05.05.2000
3.
European Championships 1997
kata male
02.05.1997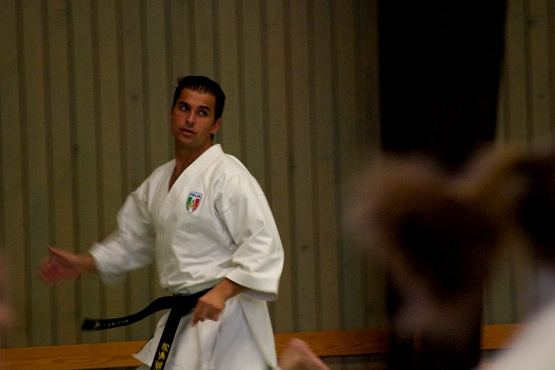 Pretty impressive, to say the least. And the seminar was almost equally impressive.
Let's see what I remember now…
To begin with, Mr. Valdesi is tall. Taller than most other competitors in kata, who tend to have the more short and stocky build, compared to kumite people.
As he says himself, this has led him to work harder than most other athletes, making him develop more specialized methods that suit his body.
We were about to learn these methods.
Surprisingly enough there were relatively few participants in the seminar (for a Karate superstar of Luca's calibre), which consequently meant that much time and attention was paid to the finer details of things like anatomy, ergonomy, motor skills and so on, of which Valdesi sensei is a master.
Too bad I can't say the same about his historical knowledge though. To give you one example, the name Heian Godan "supposedly" derives from the Heian period (794 to 1185) in Japanese history, which in this kata means "Five years of peace, a peaceful time in history" according to Valdesi sensei.
But never mind – as we know, there are other people who are more qualified to teach us history. Valdesi sensei, on the other hand, is here to teach us what those people probably can't:
How to become a kata champion.
The seminar focused on the kata Heian Yondan and Heian Godan for the beginners, with Empi and Kanku Dai (Shitei version) for the advanced group (blue belt and above). In a few places some basic 'Sport Karate style' bunkai were also introduced along the way, but these were not really to my liking, and as Valdesi sensei at one point himself pointed out:
"This bunkai is defense against mae-geri. The idea is to move forward and block before the opponent kicks. I know, it sounds crazy, but you have to be very fast!"
Needless to say, every bunkai was a defense against one of the following classical attacks:
Straight punch.
Straight kick.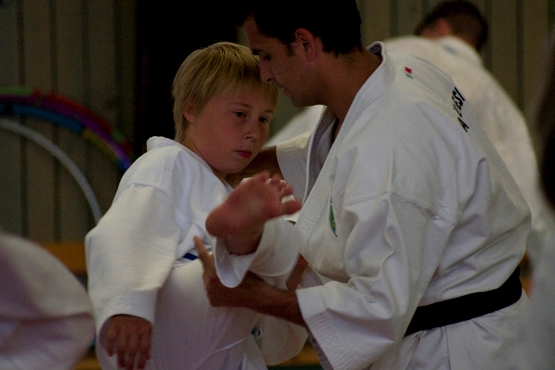 Heavy focus was also laid on correct kihon, including deep stances and many high kicks, in all possible forms and shapes, just as you would expect.
Especially important was the training of some key muscles, like the ankles, hamstrings, latissimus dorsi, and iliopsoas.
The kihon was what stood out the most, to me. Ingeniously crafted together by Valdesi along with his team of evil Italian scientists (at least that's my theory!), the kihon covered basically the whole typical Shotokan syllabus (from a Sport Karate point of view) with his brilliant set of five special hip rotation exercises as the icing on the cake.
I loved it.
Big attention was paid to the position of the feet, knees and hips, with the words "My speed comes from correct rotation of the feet. This is very important." just making everyone work even harder.
"Don't eat your techniques" was another quote that I especially remember during these kihon exercises, which I thought sounded pretty catchy.
But maybe I was just hungry…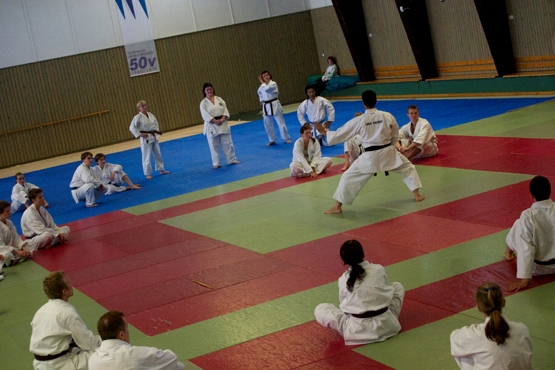 Oh, and do you remember that article I wrote about kime? Well, Valdesi sensei seemed to agree with me, repeating many times during the camp that "Kime means: stop the movement in the least time possible!"
Though most participants seemed to be at too low a level to understand this concept very well.
Japanese terms aside though, what really characterized Valdesi sensei's approach to Karate was science.
Or at least the application of scientific principles.
The constant use of words like "anterior foot" or "posterior chain", coupled with his easy-to-follow explanations of body mechanics was quite refreshing, especially when the teacher not only 'talks the talk', but also 'walks the walk'. Even with a cold, and a runny nose.
You could definitely tell that every technique had a well-defined purpose, and nothing was to be wasted.
Not even brain power.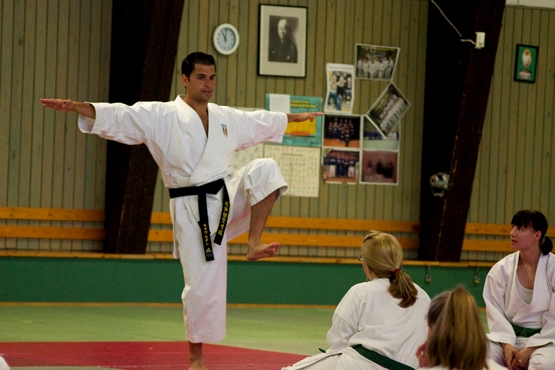 The constant reminders that Karate was first and foremost to be done with the mind totally focused was made clear every ten minutes or so, and even clearer when Valdesi sensei pointed at his head while he said it.
To train year after year only by doing what everybody else does, or just by looking at everyone else is a waste of time, and feeling your own body – "feeling your feet on the floor" – was especially important at all times.
Not to mention "feeling the pain".
"If you feel the pain, you will understand which muscle is correct, and you will feel how to do the correct work".
And perhaps that last word best symbolizes what the whole seminar was really about:
"Work".
To Valdesi sensei everything was "work". I never heard "technique", "skill", "movement" or even "exercise" being mentioned during the entire seminar. Everything was categorized under the term "work", and maybe that is not too strange considering who he is.
When you are 8 times World Champion and 14 times European Champion, Karate is probably nothing but pure work.
And for Luca Valdesi, conducting this summer camp was simply another "day at the office".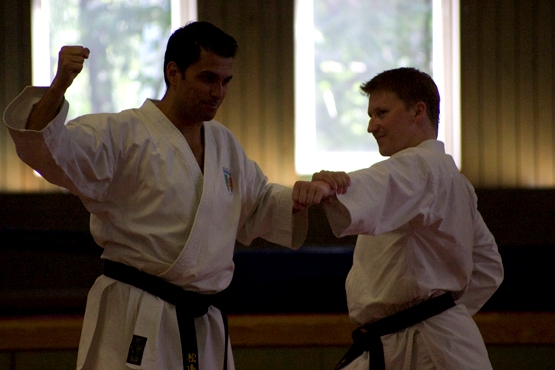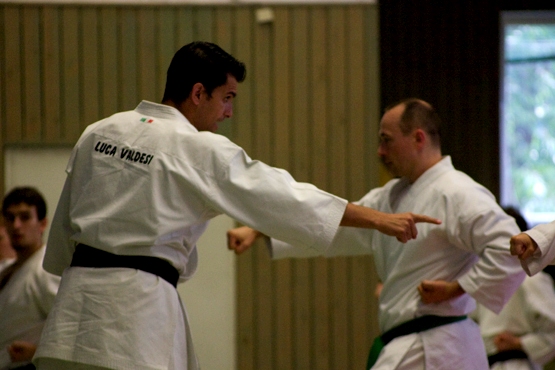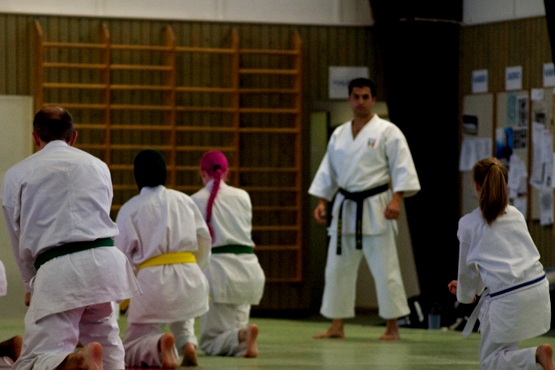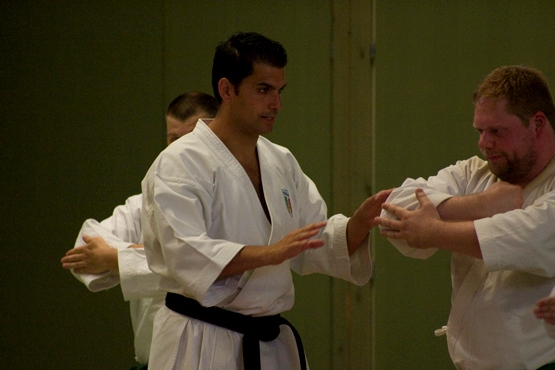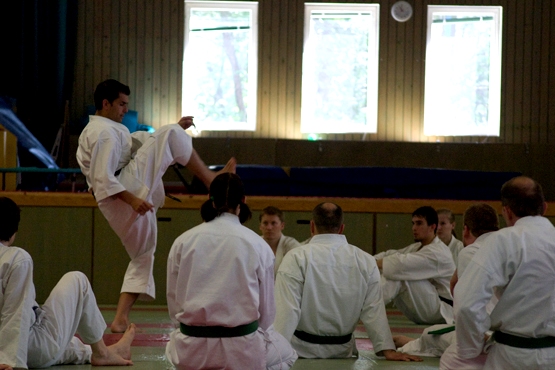 Thank you to Tapanilan Erä for organizing a great camp.