This weekend I was at the German Open 2009, one of Europe's biggest Karate competitions I believe.
It was a nice competition, with people all the way from Vietnam, Colombia, South Africa, USA and other places far away.
Of course I was ready with the camera!
So, without further ado, here are my 49 best pictures with some comments. I'll maybe even upload some videos later this week…
Let's begin with kumite pics.
Enjoy: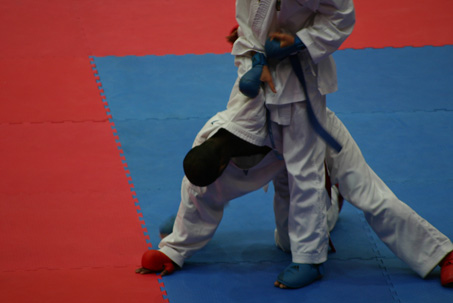 It must have been a hard day for this guy (see next pic also).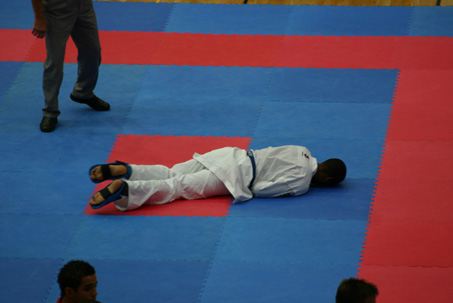 Like I said…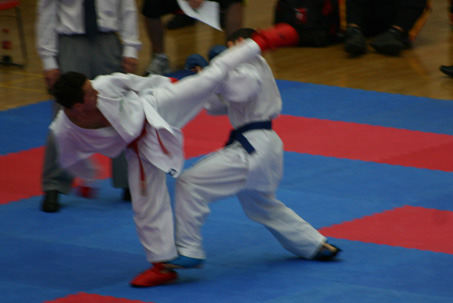 A nice ura mawashi-geri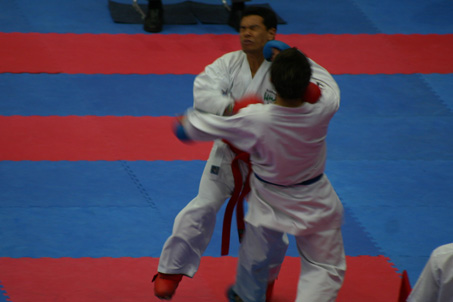 Hey, if you have a belt longer than your legs you deserve a punch in the face!
Girls can kick high too. Especially this girl.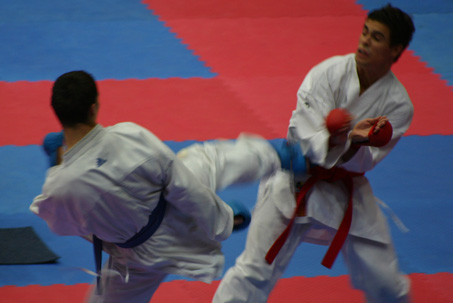 Judging from the look on the recipient's face, this mawashi-geri hit the spot.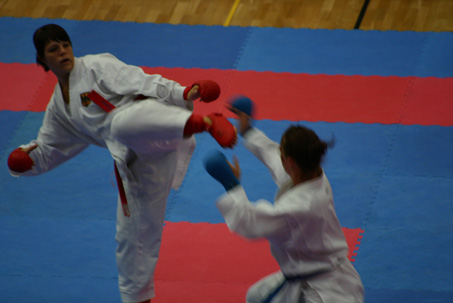 Tip: Don't try to catch the opponents leg in midair. Unless you want to eat a foot sandwich.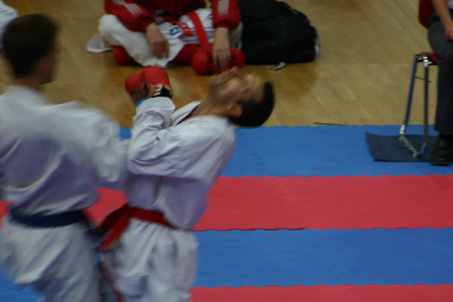 This is what you look like if you have eaten a knuckle sandwich though.
Ouch.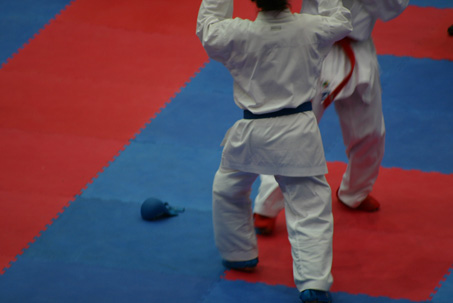 The oldest trick in the book. If you are tired, just throw away your gear. "Oh, it slipped!"
Gives you about ten seconds to breath!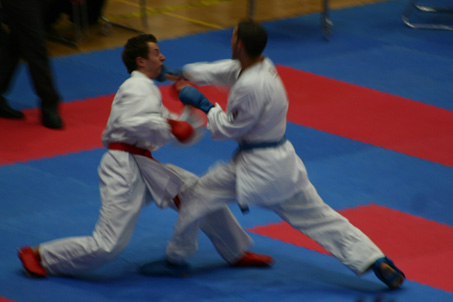 Another guy eating a knuckle sandwich. Blueberry taste.
Ouch again.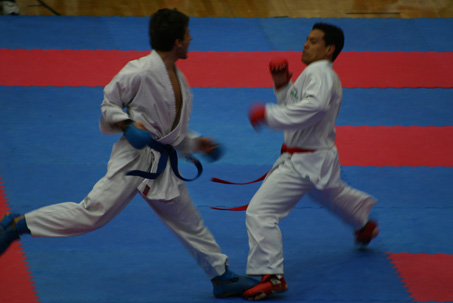 Also one of the oldest tricks in the book.
Look at the front feet.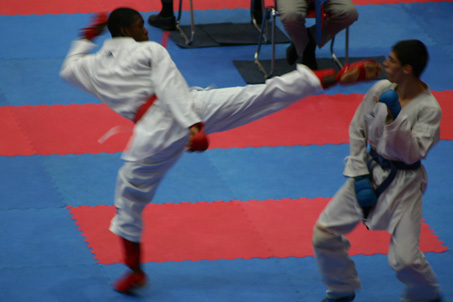 So close, yet so far away…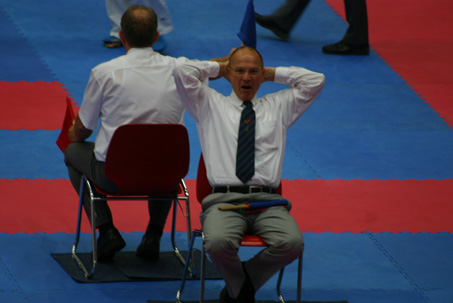 Two judges were role-playing.
Or am I the only one who thinks the blue flag looks like a wizard hat?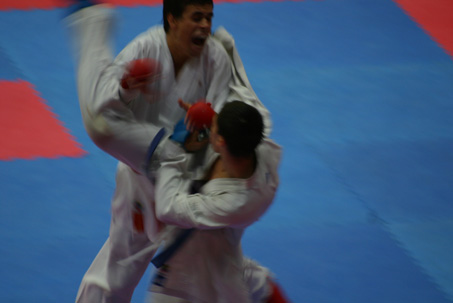 And the prize for "Craziest Kick of the Day" goes to…
I mean, just look at the fear in the opponents faces!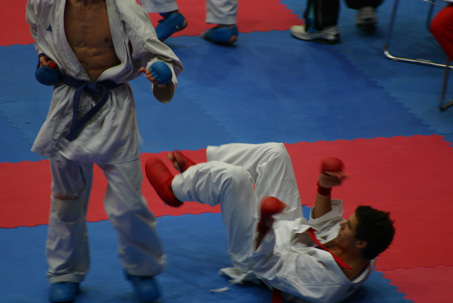 If you're a woman, I know what you're looking at right now…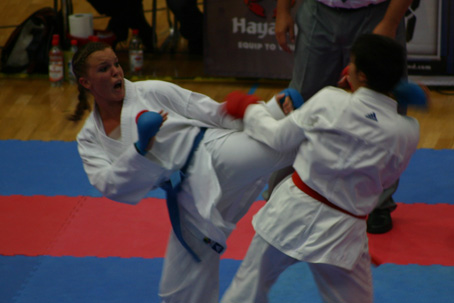 Another high-kicking girl.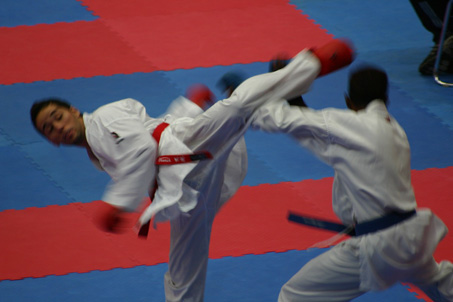 A nice ura mawashi-geri again.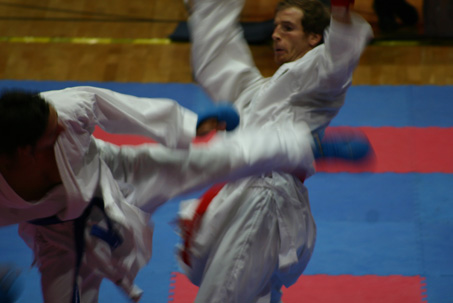 "Okay, okay, I give up! Just stop kicking me!"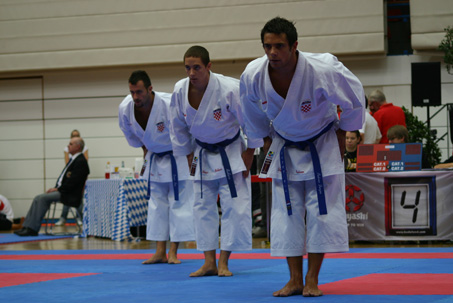 Then it was time for kata. Individual and team (as seen above).
Including bunkai.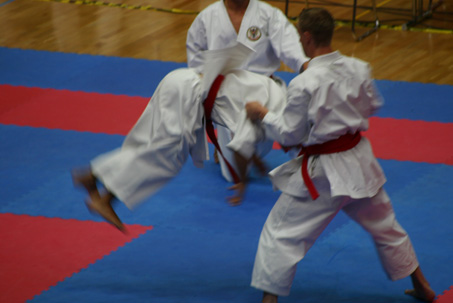 Bunkai. They love those flipping "throws"…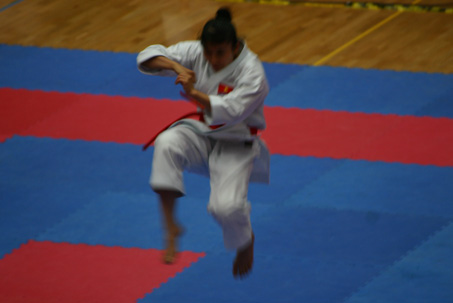 The current female World Champion of kata does a jumping kick.
Or should I say did a jumping kick (slow camera…)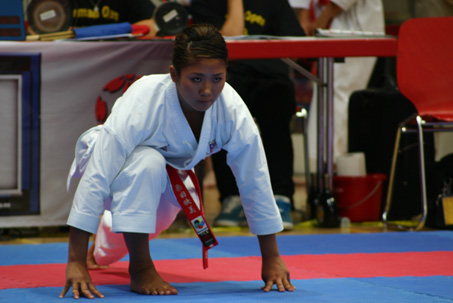 Bronze medalist from America. Kata Unsu.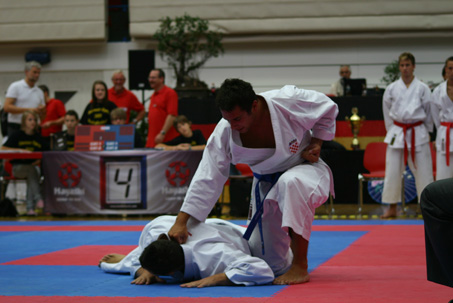 Classic bunkai finish.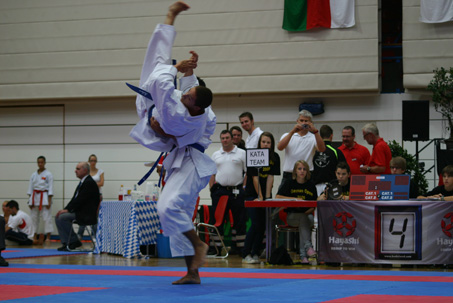 The leaning tower of Karate.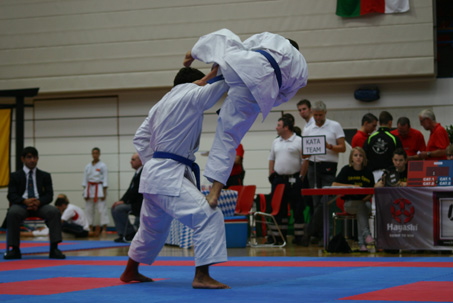 First you climb…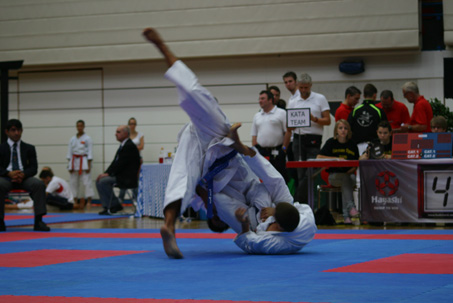 Then you roll.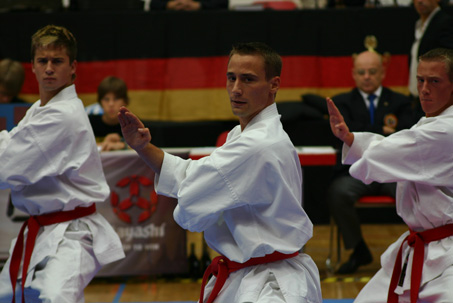 Kata Gojushiho-sho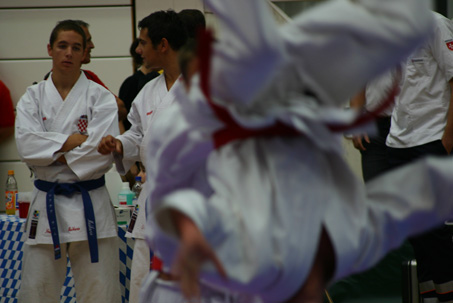 Blue team looks rather unimpressed.
Notice the back flip in the foreground.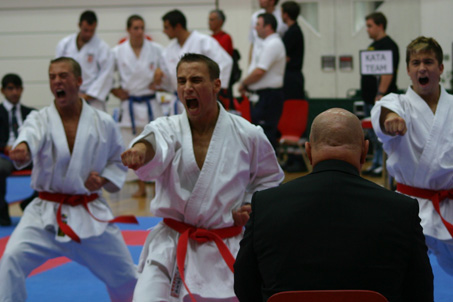 Try convincing this judge…
[Insert favorite mafia movie quote here]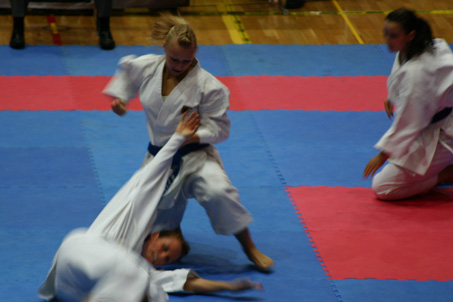 Finish her!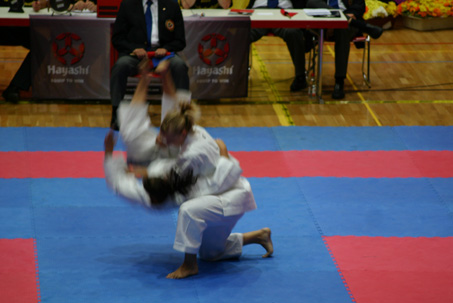 Throw her!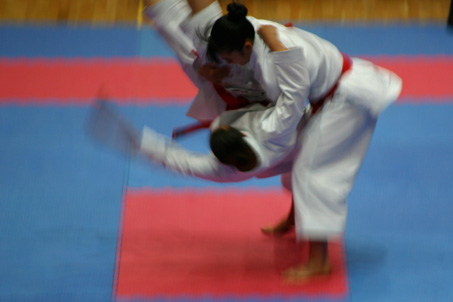 And her too!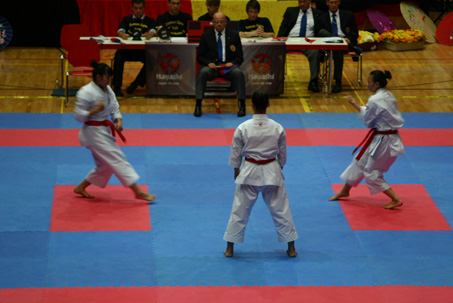 Vietnamese team doing sneaky moves.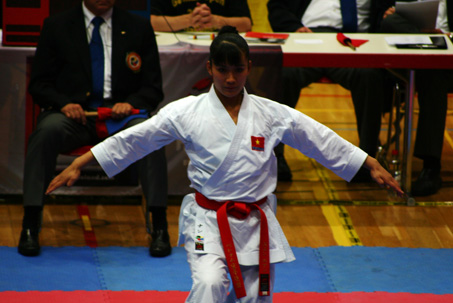 Female World Champion doing a slow pose for once.
Kata Gojushiho-dai (Shotokan).
Don't ask me why.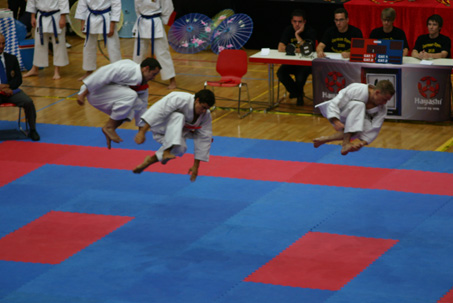 Of course, the classic Unsu photo.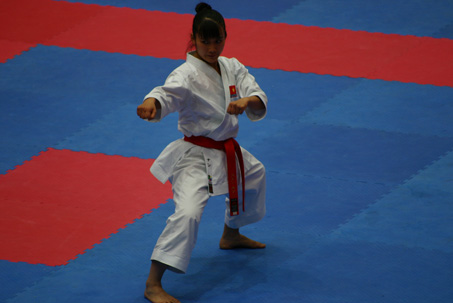 Freeze!
Kata Chatan Yara Kusanku.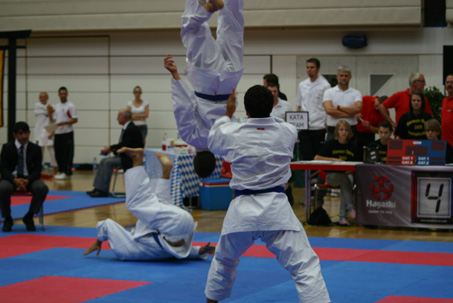 Was this gymnastics or Karate?
I seriously didn't know sometimes.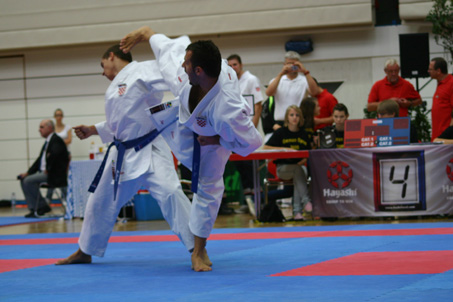 Yup, it was Karate.
Or very violent gymnastics.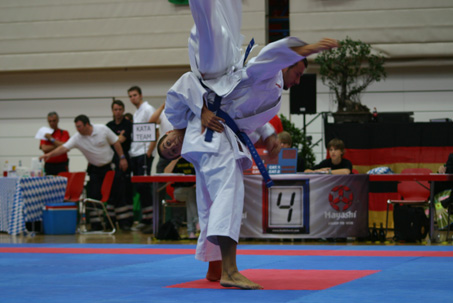 Another throw…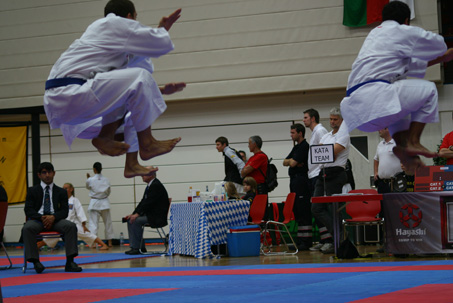 Kata Kanku-sho.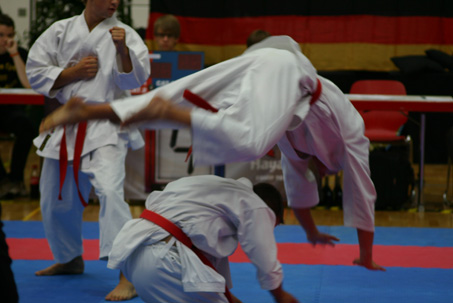 Wohoo!
This always works on TV.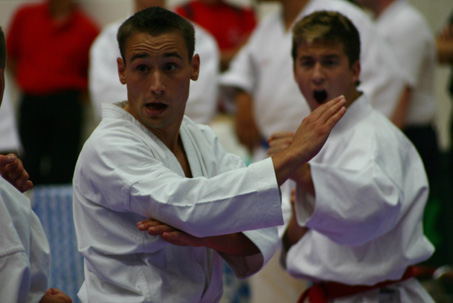 No comment.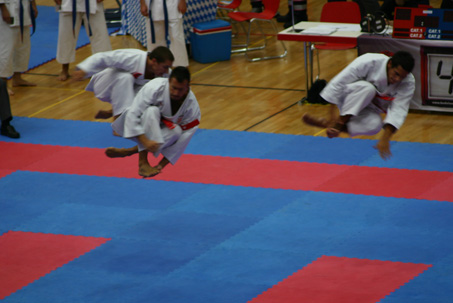 Unsu again.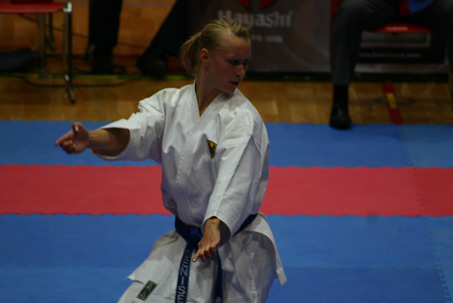 There is a new sheriff in town…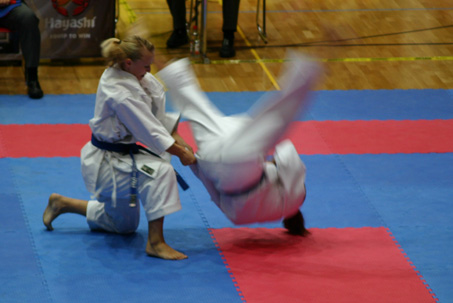 Nice throw (again…)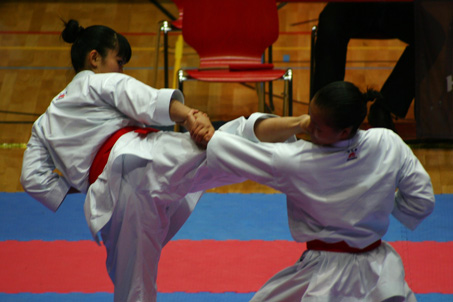 Classic team kata bunkai pose.
1,2,3… Okay, done.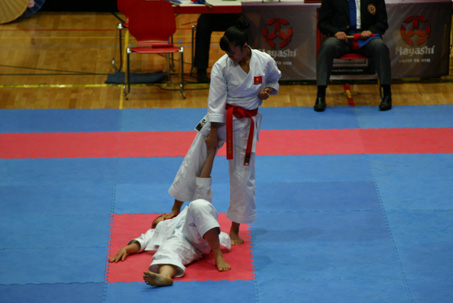 Brutal Vietnamese girls.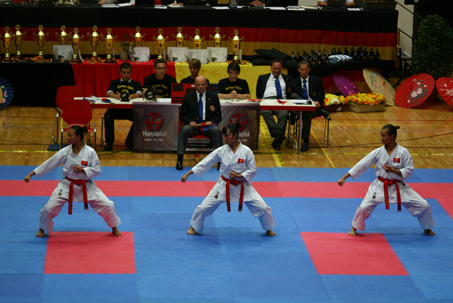 Kata Gojushiho-dai.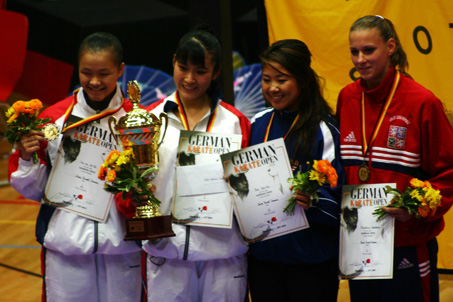 And some happy winners!