Wowzers!
I just came home from KNX16.
This was the third year I hosted The Karate Nerd Experience…
…and I couldn't be happier! 🙂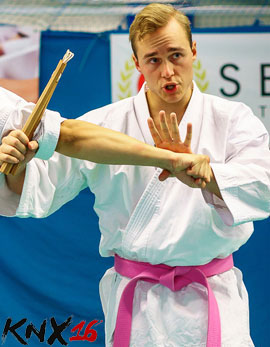 For 4 days, passionate "Karate Nerds" from 20+ countries gathered to eat, sleep & train Karate together with world-class experts in London, UK.
(Last year was Germany, next year will be USA.)
The theme of KNX16 was a historical journey through the evolution of Karate:
Stage 1: The China-Okinawa connection.
Stage 2: The Japanese modernization of Karate.
Stage 3: The Western revolution of Karate for MMA.
Each day, special guest instructors were invited to share their knowledge alongside me.
A professional camera team also recorded every training session (you can order the videos here).
But… what exactly happened at KNX16?
I asked a participant, sensei Charles 'Chip' Quimby from Authentic Karate in USA, to share his personal experience with you.
Here's what he wrote: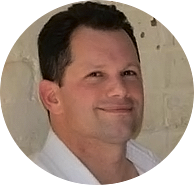 "Hey there! I just returned home from KNX; the annual martial arts camp for self-proclaimed Karate Nerds.
The Karate Nerd Experience (KNX), now in its third year, is the brainchild of Sensei Jesse Enkamp, a.k.a. KARATEbyJesse.
His goal is to once a year, bring together a small group of open minded, forward-thinking, ultra-passionate karate enthusiasts for a three-day camp like no other.
This year's KNX16, which was my first, was held in London at Saint Mary's University, England. The venue was beautiful, and being a university, naturally permeated an energy of higher learning, perfect for a camp with the reputation of KNX.
The theme of this year's camp was a "Virtual Journey Through the History and Evolution of Karate."
We began the first day by exploring the China-Okinawa connection and the roots of karate.
Sensei Enkamp got things rolling and introduced the group to a set of traditional Okinawan striking drills knows as tegumi and kote-kitae. These were REALLY fun drills, which challenged our timing, coordination and body control, to strike our partner while they simultaneously struck us.
The exercises were facilitated in a very logical manner and the drills layered on top of each other until it became almost a full-body excise. The group loved this, and we all could appreciate how it reflected the flavor and style of karate training when it was solely practiced in Okinawa, before it started spreading throughout the world.
I've done lots of conditioning drills over the years, but I loved how these exercises challenged me on both a technical level as well as a physical level.
Later that day we worked with Master Wong of Wing Chun fame.

Beyond energetic, Master Wong's high-intensity, full-throttle approach to martial arts came through in everything he shared with us.
Known for using Wing Chun for reality-based self-defense, Master Wong outlined his philosophy for effective street survival, which centered around three areas.
The first was to establish an immediate advantage over your opponent through seizing the ELEMENT OF SURPRISE. The second key was to utilize SPEED, effectively minimizing the time your opponent had to react to the attack. The third key to Maser Wong's approach, and the one he might be most well known for, was his belief in applying an OVERWHELMING degree of physicality and VIOLENCE towards the opponent to completely neutralize their threat.
Master Wong's demonstrations left no doubt that he fully subscribes to his own approach. He also spoke at length on the importance of sensitivity and maintaining physical contact with your enemy to control and predict their movements. His emphasis on completely finishing the opponent left a lasting impression.
During our second day we trained with Shihan Kousaku Yokota, who taught some of the core principles of Japanese Asai-ryu Budo Karate.

Being one of only few direct students of Tetsuhiko Asai, Sensei Yokota taught some incredible exercises for balance, mobility & flexibility, along with some very interesting, soft open-handed whipping techniques.
He really helped us understand the nuances of the human body and its design from a biomechanical standpoint. He also shared many fascinating drills to help improve our karate performance on a variety of levels.
It was truly illuminating to see Yokota Sensei in action, although our bodies were feeling the impact of his lesson for the whole weekend.
At 69 years young, you could tell he practices 4-5 hours daily to "sharpen his blade".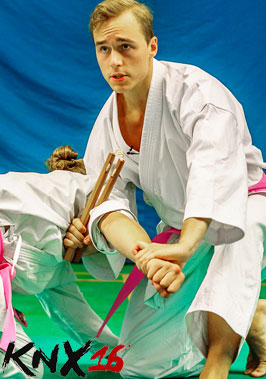 Sensei Enkamp then taught a session on kobudo, the traditional weapon methods that were largely lost during the modernization of karate.
The weapon of choice was nunchaku, as made famous by Bruce Lee. Each participant received their own foam-chucks to bring home after the lesson. The techniques were based around kihon, how to swing, catch and attack, along with kumite; against single and multiple opponents.
Later that day, we enjoyed an insightful theory lecture given by Yokota Sensei on the modernization of karate in Japan during the 20th century.
Sensei Yokota was incredibly knowledgeable and shared his views on a wide range on topics on everything from anatomy and physiology, to breathing methodology, to makiwara training and nutrition.
It was a great opportunity to hear a karate master with such vast experience share his honest and unfiltered views on such an array of interesting topics. Not to mention having a chance to participate in a Q&A.
We finished our second day attending an evening workshop hosted by sports psychology expert, Dr. Aura Goldman, on peak performance for karate.

[Jesse's note: This was the "secret session" of KNX16. Last year was Zen meditation, previous year was ballet.]
She ran us through some great practical exercises to better appreciate how sports psychology could be used in the martial arts, along with some of the most effective tools and techniques used by top athletes and coaches.
It was blast and I would enjoy spending a whole day with Dr. Goldman.
Our final day was spent exploring how traditional karate can be applied in the modern world, with Sensei Antony Vinicio.

In case you weren't aware, Sensei Vinicio has worked with and trained many of MMA's biggest names (Lyoto Machida, Vitor Belfort etc.) so needless to say I was very eager to see his methods in action and how he's adapted traditional karate for combat sports.
Sensei Vinicio shared his views and philosophy on traditional karate, and how he's used those to help bring his karate to the highest level. We explored hidden techniques found in many of today's popular kata and his bunkai were AWESOME!
We also learned Sensei Vinicio's must-have MMA skills for traditional stand-up karate-ka and how to adapt familiar techniques for ground fighting.
Before KNX16 was finished, Sensei Enkamp gave his last lesson on biomechanics for karate, based around functional movement principles.
The focus was on feet, knees and hips, along with flexibility, strength, mobility and technical exercises for integrating these joints correctly into our stances.

The camp ended with a much-needed Sayonara Party Cruise on the Thames river, with traditional English fish & chips, music and dancing.
KNX16 was an amazing experience and it truly exceeded my expectations.
I came home with TONS to think about, work on and explore! I'd recommend KNX whole-heartedly to anyone looking for an amazing experience with individuals who will challenge the way you think and practice karate.
I'm looking forward to KNX17 and can only imagine how Jesse-san is planning to try and out-do himself next year.
I'll just have to wait and see!
Charles Quimby
Authentic Karate Training Center"
____________