Sensei Jeff is only 43 years old.
Tomorrow, he's scheduled for his second knee surgery.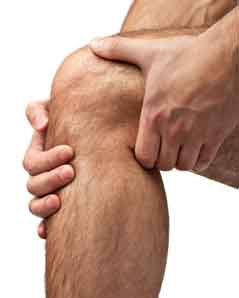 Ouch…
But it used to be different.
"When I was younger, injuries were never a problem. I was in the dojo almost every day training hard. These days, my knees are killing me! It seems Karate is unhealthy."
Jeff isn't alone.
I regularly meet Karate instructors, coaches, grandmasters, ex-champions and athletes with knee problems. It's like a "dark secret" in the Karate world…
…and nobody knows why. 
Of course they don't.
Just like a fish in the sea doesn't notice the water around it, Karate practitioners don't notice the reason for their knee problems because they've been doing it for so long.
However, Karate by itself will not give you knee problems.
Bad Karate will.
And if you've been doing "bad Karate" for a long time, you won't notice it.
Until it's too late.
It's like Yukimitsu Hasegawa said in our interview:
"If you practice incorrectly for many years, you'll become very good at performing bad Karate. Many people can't see the difference. […] You can achieve a very high level by practicing badly!"
So, let me ask you something…
How much do you practice your stances?
You see, the #1 reason for knee injuries in Karate is due to incorrect stances.
Trust me. 
Just look at these pics: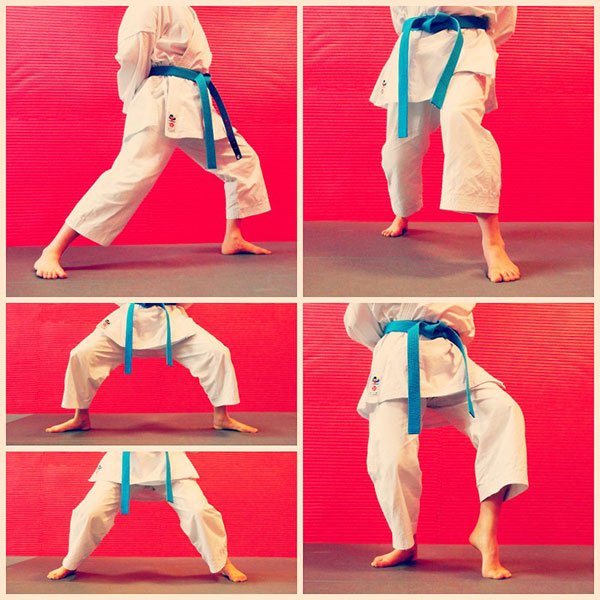 Can you see that?
This is what I call "The Collapsing Knee Syndrome".
It accounts for 99% of all knee injuries in Karate.
Now compare to this: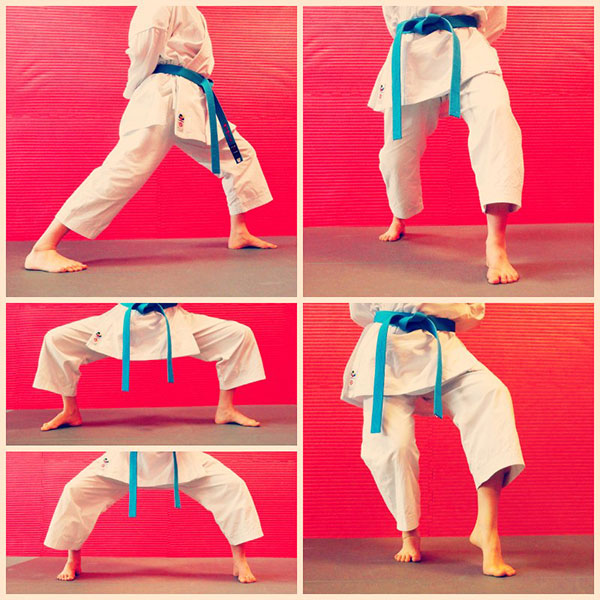 See the difference?
This is super duper ultra hyper important.
Allow me to explain…

The Collapsing Knee Syndrome Explained
I'll keep it simple.
Your knee is a hinge type synovial joint and works in two ways:
The right way (front/back)…
…and the wrong way (right/left).
Get it?
(I told you it was simple!)
So, what happens when you do an incorrect stance?
Your knee is forced to bend the wrong way.
It collapses.
The reason your knee collapses is generally due to a biomechanical compromise; i.e. low degree of mobility in the hips or inadequate ankle flexibility. It can also be because you're too stiff and lack quad length or hamstring sufficiency.
Your knee basically buckles in to unload your weight and buy slack.
It's a survival mechanism from your body.
Although this might not seem like a big problem today – one day it will.
Because, even if you're young and strong, a few years of training with a collapsed knee will eventually lead to an accumulation of micro tear in your knee joint, until…
Pop!
There goes your knee.
And we don't want that, do we?
Let's fix it:
How To Fix The Collapsing Knee Syndrome
When people experience pain, they usually visit a physiotherapist.
In 9 times out of 10, the physio will give them a program of "corrective exercises" to do, which may involve weights, resistance bands and/or balance boards.
That's cool.
But we need to fix the root of the problem – not just the symptoms.
We need to fix your stances!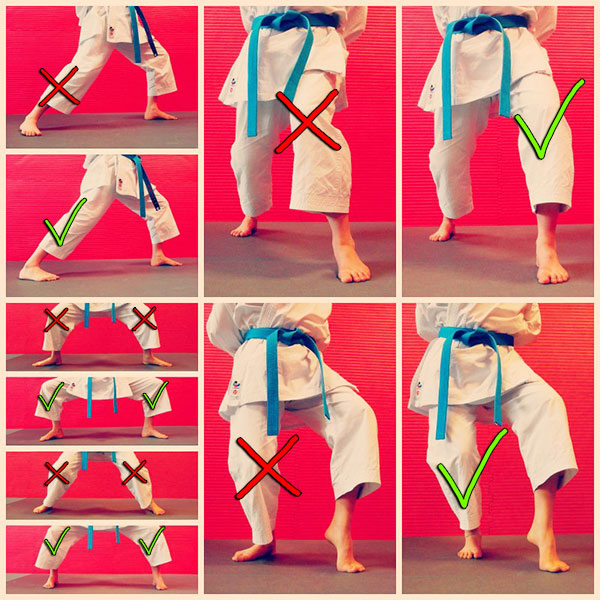 How?
By making sure your knee tracks over your foot.
That's the easiest method for an anatomically stable, powerful and safe stance.
A good verbal cue for instructors to use is: "Track your foot with your knee".
If your knee always collapses inside your foot, you're in danger.
While we're on the subject, you should strive to align all your joints – not just the knee and foot. This gives you the ability to create mechanical torsion throughout your body, which helps you perform techniques with high power while minimizing risk of injury.
That's it!
You just saved yourself years of pain, struggle & expensive surgery.
At the end of the day, it's about training smarter.
(Not just "harder".)
Karate should ALWAYS be GOOD for you!
It should make you happy, strong & healthy.
That's when you can do it forever.
"Karate is a lifetime study."

– Mabuni Kenwa (1889-1952)
Makes sense?
Happy training!
/Jesse
____
PS. Did you see my new video?