7 times world champion.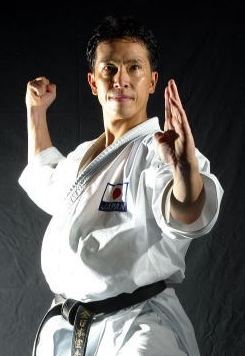 That sounds like something a fake "McDojo" grandmaster would put on his business card.
But…
In the case of Yukimitsu Hasegawa, it's as real as it gets.
Born and raised in the cradle of modern Karate, sensei Hasegawa has long been known as the front man of the dynamic trio of The Hasegawa Brothers, winning WKF world titles for many years in both individual and team kata, back in the days.
He actually popularized many of the kata we compete with today.
After a career like this, most people would probably quit Karate, right?
Not Hasegawa sensei.
In fact, when he's not busy coaching, traveling or teaching – he still competes at local tournaments or secretly joins classes in other dojos!
(Trust me, I trained with him under Sakumoto Tsuguo in Okinawa this summer. Imagine my surprise when I'm suddenly practicing kata next to the legendary Hasegawa Yukimitsu!)
He's also a brilliant salsa dancer, but that's another story. ; -)
Now, thanks to my friends at Sportivart, I managed to hook up and steal 30 minutes of time for this exclusive interview with him.
Are you ready?
Check it out…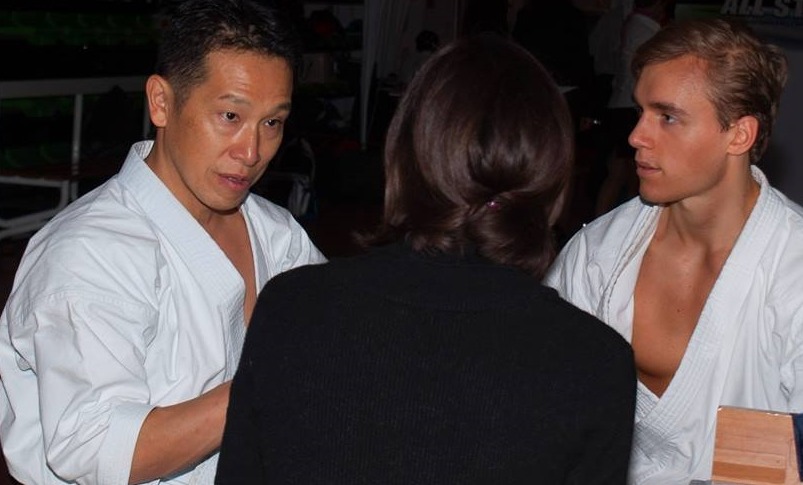 J (Jesse): First question! When and why did you begin Karate?
YH (Yukimitsu Hasegawa): "I started when I was 15 years old, simply because I saw my older brother practicing Karate. It looked fun."
J: Did you win tournaments directly from the start?
YH: "Oh no [laughs]. I was really bad at first! But after training diligently, I eventually got my first medal in three or four years of practice."
J: Has Karate changed since you started? Was it very different back in the days?
YH: "The basics have not changed. Kihon is still kihon. But speed and power are definitely more important today, especially in tournaments. It's more athleticism. Even regular training has changed, as training methods progress."
J: So why did you choose to specialize in kata, and not kumite?
YH: "First of all, in my dojo we never separated kata and kumite. They went hand in hand. My sensei always said: "Only kata, no no. Only kumite, no no." True Karate has both elements. However, as I became better, I could be selected for the Japanese national team if I specialized in one category.
Since both me and my two brothers enjoyed kata, we decided to form a kata team, "The Three Brothers". We got selected as the national kata team of Japan.
But don't misunderstand this, I have always trained both kata and kumite in the dojo. I still do. That's Karate. It's just for tournaments they have been separated."
J: Right. But you're not only a former champion, but also a great coach. What are some "secrets" to become good at kata?
YH: "There's only one secret. Practice [laughs]! And always practice correctly."
J: What do you mean by correctly?
YH: "That's the difficult part. I cannot answer it for you. It depends on the individual. Everyone needs different practice. You must ask yourself: "What is the right practice for me?" Think deeply about your own training.
This mindset is very important, because you can also achieve a very high level by practicing badly!"
J: Really?
YH: "Yes, if you practice incorrectly for many years, you'll become very good at performing bad Karate."
J: Haha, that's so true!
YH: "And many people can't see the difference."
J: So, generally speaking, what are some common mistakes you see when people try to practice "correctly"?
YH: "There are many. I will only mention the ones I see commonly in the West. For example, some Karate practitioners, especially kata competitors, seem to think that movements must always be performed in a hard way. It looks very stiff. No feeling of flow in the movements.
This is a very basic level of waza (technique), but despite training for many years they never develop it to the next level.
Also, I see a lot of artificial breathing. It's clear to me that the purpose is not to breathe. It's to make loud sounds, to seem more impressive. It's the same with excessively slapping one's gi."
J: Indeed. How else would you say Western and Japanese Karate differs?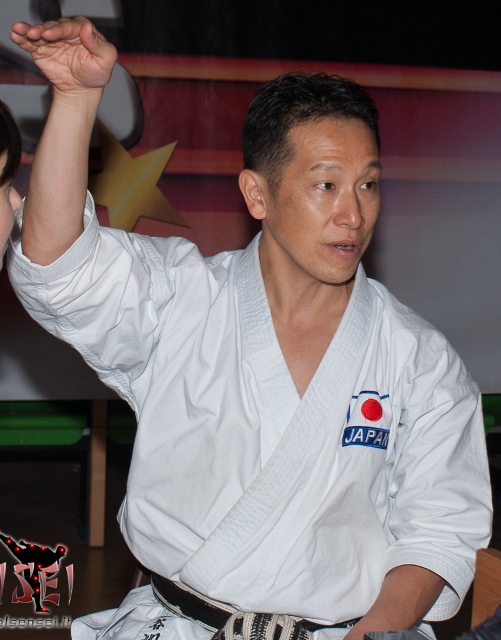 YH: "Well, my experience with the West comes mostly from Europe, and I see a lot of Shotokan here. Very much. This is different from Japan, where the four major styles are equally popular. Shito, Shoto, Wado and Goju-ryu. Everyone are really good at their respective styles in Japan!"
J: Is Shotokan similar in Europe and Japan?
YH: "No, very different…"
J: How?
YH: "Many aspects. In Europe, people have superb speed and power. They are very strong physically. But they have little idea about the meaning of the movements, the bunkai. This is something we think about a lot in Japan. What do the movements mean? How are they used in self-defense?
If you don't know this, you are not practicing a martial art. The techniques become more sophisticated when you know the meaning of the movements, because then you can show the correct feeling."
J: I totally agree! Nevertheless, when I teach bunkai to people who compete, they start rolling their eyes.
YH: "That's a mistake. Because even if you only use kata for competing, a good referee will award you higher points if you are not only doing the physical movements correctly, but also expressing the real meaning of each kata, which you can only understand by practicing bunkai."
J: Couldn't have said it better. Now, here's something that's been bugging me: When you look at modern kumite and kata, it seems very disconnected. How can people bridge this gap?
YH: "By understanding basics. Kihon connects everything, always."
J: Please explain!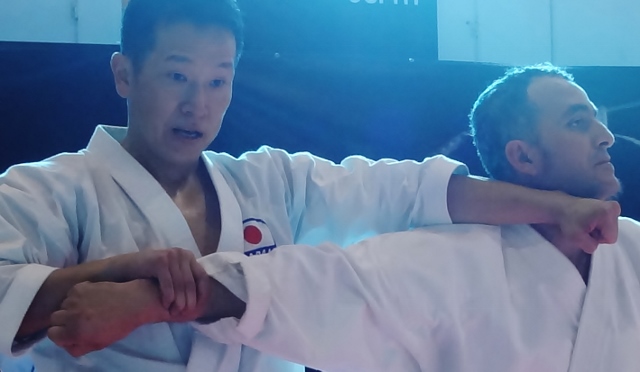 YH: "On the surface, kata and kumite look very different. But the mindset must be the same in both. You're always fighting. And the basics of fighting; strength, relaxation, timing, visualization, power and speed are all practiced in kihon. The basic movements, and especially the mindset, of a world champion in kata and a world champion in kumite are exactly the same."
J: Being a world champion yourself, I have no doubts that you're right. Can you describe your favorite experience or memory from competing around the world?
YH: "Yes. 1992. World championships in Spain, me and my brothers. 6th gold medal. Good memory. This was the last world championship we won before they introduced the new flag rules."
J: Good times! Lastly, what's your hope for the future of Karate?
YH: "Seishin."
[Note: When I heard this word, I almost did a tripple backflip out of my chair! Seishin is the *exact* same name I chose for my newly launched Karate uniform (the world's first crowdfunded and crowdsourced Karate gi). I mean, how big are the chances?! Universe was definitely trying to tell me something here.]
J: Uh, what? Seishin? (In a calm voice, trying not to freak out.)
YH: "Yes, in English this is 'Spirit'. I hope that the future of Karate will not just be about having fast techniques, or being strong. I want people to understand the spirit of Karate. Make more friends, help the weak, learn from each other and live a meaningful life through Karate. This is 'Seishin'."
J: Awesome! And if you could give one final advice to people who want to achieve greatness in Karate, what would it be?
YH: "It's impossible to give just one… Stay motivated. Set personal goals. Think hard about your training. Why are you training Karate? To learn more techniques? To become a champion? To protect a lady? Find your motivation by asking "Why". Then find the best ways to improve. And never give up!"
J: Very good. Any last words?
YH: "Love and peace [laughs]!"