The other day somebody asked me how to strength train for Karate. What machines to use, how many sets, how many reps, what muscle groups, what angles, what type of weights… ad infinitum.
So, to that guy – and the rest of you – hear ye, hear ye:
One thing that many people of today's Karate world seem to have grossly misunderstood, and sometimes even forgotten, is the concept of supplementary training.
Now, don't get me wrong here. Cross-training is huge these days, I know, but knowing what, how and when to perform supplementary training (that is; extra training which supplements and ultimately boosts your skills in Karate) is a bit tricky. And it's more popular in modern martial sports (MMA, Thai boxing, wrestling and such), than in the more traditional martial arts like Karate. We don't do it because it's not always "traditional", right?
Most Karate people might just jog a little, or hit the gym now and then. If even that.
Which is fine.
But not optimal.
So why settle for less than optimal, if optimal happens to be just a few tweaks away? Or just a special tool away?
In this article I'll give you some advice on how to bring traditional Karate-style hojo undo (supplementary strength and conditioning training) into the 21st century; using one of the most popular strength training tools on the market today.
But first, let's take a quick stroll down memory lane:
People in the martial arts have always been trying to improve their fighting skills through extra training, whether it be kicking bamboo trees in the hot jungle or punching frozen pigs in a cold slaughterhouse. You know it, Rocky knew it, and the old masters of Karate knew it. I've written about this numerous times before by the way, so I don't make me convince you again.
Strength training and conditioning is essential for every Karate nerd.
But the big question is; "What's the most optimal way?"
Should we hit the local gym, where there's only useless open-chain machines that exercise completely wrong angles and muscles for Karate? Or should we try some of that cool Crossfit stuff? Billy's Bootcamp? Tae Bo? Yoga? Elastic bands? Wrist weights? Dumbbells? Ankle weights? Weight vest? Pure body-weight exercises?
No.
Or, yes, sometimes, but not now. Because we need to go back to the roots, check out some of the original training implements used in old-school Karate, figure out how to translate that to the 21st century, and hopefully achieve greatness.
So here's what I'm suggesting for every Karate man or woman out there:
Kettlebells.
Yes.
Kettle.
Bells.
Why? Here's why:
Great combination of cardio and strength.
Great solution for busy people.
Comparatively cheap. One tool, hundreds of exercises.
Increases metabolism (6 pack, yes please!).
Not boring and easy (like barbells and dumbbells).
Gives you a complete, full body workout.
It's fun.
The old masters did it too (explanation below).
Ever heard about ishi-sashi?
If you practise traditional Goju-ryu, I bet you have.
The ishi-sashi, or "awesome stone padlock" as the names translates to, is an old strength training tool from Okinawa (originally from China though) used for training the specific muscles of Karate through highly functional drills and movements. Today most Karate dojo that does hojo-undo (supplementary training) only uses stuff like the chi-ishi, makiwara and perhaps the nigiri-game, but the ishi-sashi mustn't be forgotten. And this is not only for Goju-people – this is for everyone. Shaolin monks too.
I mean, it's not a coincidence that the kettlebell, the #1 strength training tool of choice for practically every UFC fighter and functional fitness coach today, is almost an exact copy of the ishi-sashi that the old Karate masters used.
They knew something.
It simply rocks too much to not use.

Here's a pic taken from a video of the ishi-sashi in use, pre-WW2 (that is, before Miyagi Chojun codified his brainchild of Goju-ryu):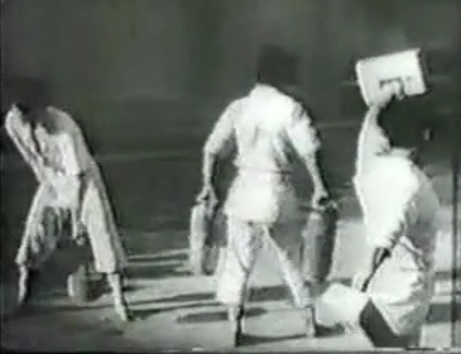 So what's the difference between the ishi-sashi and a kettlebell?
See for yourself:
Practically speaking, there's no significant difference.
You can do the exact same exercises.
However, since there is a larger market for kettlebells today than for old Okinawan/Chinese stones with handles, kettlebells can come in various sizes and shapes. They also vary in weight and material, ranging from 5 to 175lbs and cast iron to sand-filled plastic. Many companies have created adjustable kettlebells with different variations of handles too, some of which can be removed and connected to other weights. Also, for protection, some kettlebells are wrapped in thick plastic and have grips in the handles to avoid damage to floors (and improve safety when swing motions are used).
"So what's so great about the ishi-sashi, or kettlebell, anyway?" I hear you going. Well, when using kettlebells for Karate training, you can incorporate a wider, longer range of motion, more sport specific movements (read: Karate movements) and the off-centered weight will force you to use more stabilizer muscles (= "belii impoootant" as your Japanese sensei would have said). Using kettlebells teaches you how to absorb the shock from the ballistic movements of the exercises, similar to punching, blocking and kicking.
In other words, good great stuff.
Kettlebell training to more closely mimics the dynamic and explosive movements that are executed in a fight than the traditional push and pull movements used in a body building routine does. With a kettlebell, you can basically mimic several of the moves you'll perform in a real fight, such as getting up from the ground with an opponent pushing you down, or shifting the body's center of gravity to take on an opposing force while keeping balanced, throwing somebody down, twisting the hips for pounding somebody's face in, etc.
In short, you need one.
Right now.
Not only for the historical significance (ishi-sashi = kettlebell), but for the sheer practicality of it!
Mark my words.
To finish this off, I'll supply you with a couple of great exercise clips you can use, and if you're interested you can always Karate-ify them even more. Delayed onset muscle soreness (DOMS) guaranteed. Use a kettlebell, but if you want to feel the wings of history flap then feel free to acquire a real ishi-sashi from somewhere. Not necessary, but cool.
Here's two Karate clips:
And here's three original Chinese (mostly used in Shuao Jiao) clips:
(compare that last one to the regular kettlebell swing!)
Now get going.
More power to you!
(PS. Oh, you thought the popular "Bulgarian Bag" was a new fitness fad thingy? Think again. In China they call it the Chang Daizi, and it's old as hell. You Goju-ryu guys are sure to recognize the Ning Zi too, also originally from China. "Nothing is new under the sun", as the saying goes…)