Today when I was taking a stroll I noticed this machine: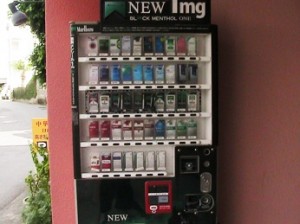 "Oh, it's a vending machine, you're so smart" you might think, but look a little closer and you will see that this is not your ordinary vending machine…
This one sells cigarettes.
Not refreshing drinks.
And anybody can use it. Kids can literally buy a pack of smokes on their way to kindergarten.
But they don't.
Nobody under the age of 20 uses these machines. As a matter of fact, there are machines selling alcoholic beverages too, but nobody under the age of 20 uses those neither.
Why?
Because they are not supposed to.
And that brings me to what I really want to talk about today:
Many people (usually high-ranking westeners) who train Karate claim that there are "hidden" bunkai (applications) to certain moves in kata. They repeatedly teach 'n preach that "this move right here is a hidden move that is supposed to be in this kata".

I don't believe that.

First of all, how do they know? Have these secret teachings been passed on for generations since the creation of the kata? Not likely. But let's suppose that there actually are hidden moves in kata (in other words; that you can not see). What would the possible benefits be? Why would anybody want to hide moves?
I thought long and hard, and came up with two main reasons:
The "hidden moves" are too dangerous to be publicly shown.
The "hidden moves" are to advanced to be publicly shown.
To me, these reasons are like taken straight out of a bad Karate movie. "Young grasshopper, you are not ready to be taught the innermost secrets of this kata yet, they are to dangerous and to advanced. But continue to practice the kata anyway, and one day I will show you the secret techniques."
I don't believe that there are "hidden moves" in kata.
That is a myth, similar to the naive belief that Karate was developed by scared peasants in the cover of nightfall during Okinawa's old Ryukyu Kingdom in order to overcome the cruel Satsuma Samurai occupying their island. Now, I'm not suggesting that such a thing is beyond the capabilities of peasants, but it's simply not the case.
Saying there are "hidden moves" in kata is simply a "Karate-version" of a common technique for acquiring power and wealth: Tell people there is something they don't understand, and then proceed by telling them you have the answer(s). That way you can manipulate them (the students), along with their wallets, as long as you give away the answers little by little. Keep them interested, but don't show them everything. Give them hope, bits and pieces, but never the whole cake.
So that is my belief. If a person says there are "hidden moves" in a kata (let's hope he just remembers where he hid them) he might do so because he doesn't want his students to go and train somewhere else (taking their money with them). Because he "holds the key" to "unlocking" the secret moves of the kata they have been taught, if they switch dojo, or don't grade regularly, they won't learn "the secrets". Thus, they stay loyal.
Therefore, more power and money to the sensei. More DVD's, video tapes and books sold, more seminars, courses and gradings held. Everything is built upon "the secrets" that this sensei supposedly knows.
The reality – as I believe it to be – is that kata is a specific reference work that preserves the techniques the creator once found effective. By simply recreating the kind of violent scenarios common to the society and era where the kata was created, the creator introduced students to real-life, effective fighting techniques, memorized by the help of a geometrical routine/pattern and practiced with a partner. Nothing hidden. It's hard to be good at something if you can't practice it. And it's hard to practice something that is hidden away.
But… kata bears the imprint of those who passed down the art to succeeding generations. And that is important.
"Even in the forty years that I have been practicing [Karate], the changes have been many. It would be interesting to be able to go back in time, to the point when the Kata were created, and study them."

– Egami Shigeru
These imprints are changes, either by design or mistake. Therefore, the most original and effective combative applications have been lost in the sands of time. That might also be a reason why some people feel they need to say there are "hidden moves" in kata. They just can't find any practical applications in the current state of the kata, so they make up some ordinary self-defence and try desperately to push it into the kata, so it "kind of" looks like it might be a "secret move" taken from the kata. That was a long sentence.
And that's great if you want to teach effective self-defence. But don't say it's a "secret move" or "hidden move" from a kata, because that's just not true.
Let me hit you with another quote:
"Everyone wants to understand art. Why not try to understand the song of a bird? Why does one love the night, flowers, everything around one, without trying to understand it? But in the case of a painting people have to understand."

– Picasso
Picasso felt his paintings were being misunderstood, and I think the same applies here.
Everyone tries so hard to understand the meaning of moves in kata. "What can this move be for? What can that move be for?". The end result is probably miles away from the true meaning. What has happened is that you have effectively dug yourself deeper and deeper into what Bruce Lee called "the classical mess".
And we don't want that.
I don't even know which is sadder; the naive student who believes that they are shown some deep secrets that "only their sensei knows", or the unscrupulous sensei salesman totally misrepresenting the original meaning of the kata.
In Japan, kids under the age of 20 don't buy things from certain machines, because they're not supposed to. In Karate, we shouldn't keep feeding the myth of "hidden techniques".
There has never been any.
So stop looking, because you are not supposed to.