So, day three of the "Okinawa Traditional Karatedo Kobudo World Tournament 2009″ is officially over.
And my eyes are soon officially closed, since I've been awake roughly 18 hours now.
Which means… I'm not going to write that much right now. Sorry! I really want to sleep so that I can be "clear in the head" for tomorrow's seminars! I saw many cool and unusual kata today, by the way. You'll see them too, later.
Youtube…
Okay, over to today.
I'll keep it short:
Everything started 8.15 this morning, with lineup for adults male kata. I participated and did four kata (won three rounds). Nothing I'm proud of, so let's forget that. Then it was bo kata, female juniors karate kata, sai kata, female adults, some seniors karate and kobudo, more juniors and so on… until around 18:00. Then finals (video of course), dinner, straight home to the computer… and here I am.
That was my day.
Okay, one of my eyes is asleep already, so I'll just give you some pictures for now. I promise to write something worthy of reading, tomorrow… If I don't get caught up in karaoke or some sayonara-party!
Not unlikely…
Okay, pictures: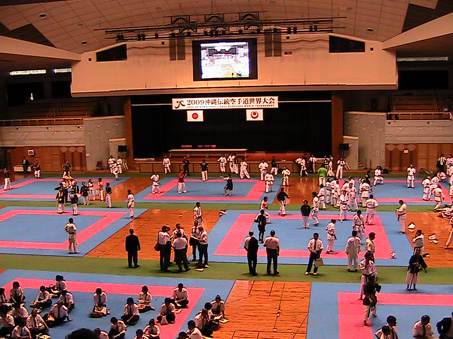 Here we have the whole arena, with people/volunteers etc. preparing for the tournament this morning.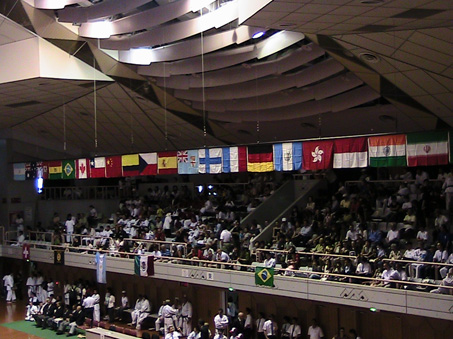 Flags, right side of the arena.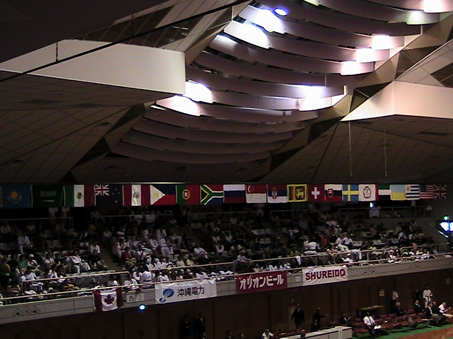 Flags, left side of the arena. Notice the ORION BEER sign in red (written in Japanese).
There's nothing like alcohol and violence…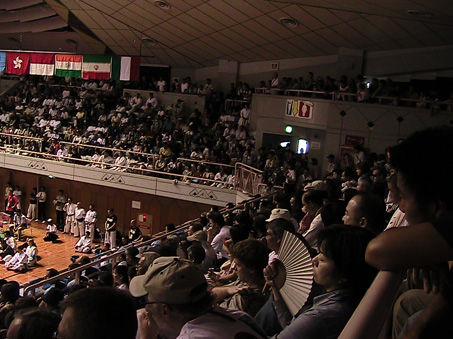 The crowd.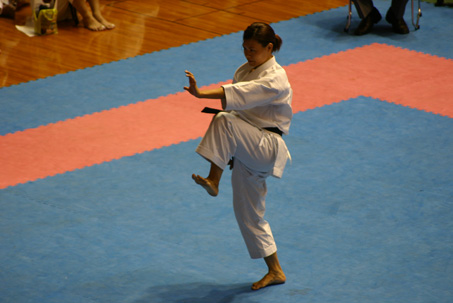 And of course, a fanpic of the female adults kata winner, Kinjo Sayuri.
I told you!
Last but not least… the undefeated winner of the male adult sai kata division (for like the tenth time…), Nakamoto Mamoru.
He is also undefeated in magic tricks with coins (I never figure them out – how can a coin go up his sleeve and come out from his ear?).
Anyway… that's it for tonight.
Now both of my eyes are asleep (I'm actually writing this with my ki-force).
See you tomorrow.
Hopefully.
But don't count on it…