Finally…
The selection is done!
After receiving numerous applications from all over the world, the 2017 Okinawa Karate Nerd Programme recipients have been selected.
Congrats to Benjamin Eayrs (Edinburgh, UK) and Kendra Harter (Alaska, USA)!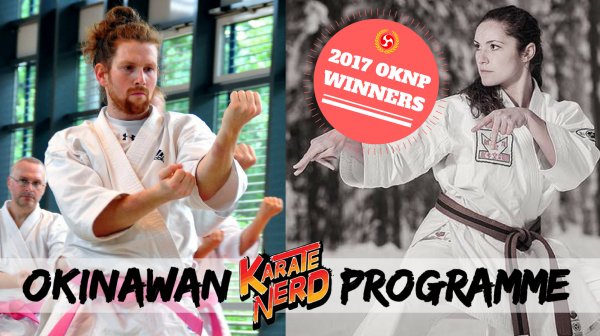 But wait – that's not all!
Yes, Benjamin-san and Kendra-san will receive the full 2017 OKNP sponsorship from Seishin International, KARATEbyJesse.com and DOJO Bar as outlined in the programme description (below).
However…
Since we received soooo many amazing applications, the invitation has been extended to 7 more people, who will be able to join the programme (without the full sponsorship) and get help with local accommodation, travel, work, training etc.
They are:
Karrin Pitt, USA
David Kraus, Czech Republic
Francois Staring, Belgium
Joshua La Selva, Canada
Nicolas Rafael Ramirez, Colombia
Maxwell Honey, USA
Jose Manuel Haces, Mexico
Congratulations to all of you!
Me and James were impressed by your knowledge, passion and dedication to Karate. A secret OKNP Facebook group has been created where you will be able to connect with each other before embarking on the trip of a lifetime.
For those who were not selected, don't worry. The OKNP participants will share their journey online via monthly blogs, until the next application period (Dec 1-31).
Until then, "gambatte kudasai" ("keep fighting")!
Greetings from Okinawa.
/ Jesse & James
______________
About The OKNP Programme
Would you like to experience Okinawa – the birthplace of Karate?
Today is your lucky day!
Introducing…

OKNP is once-in-a-lifetime opportunity for two young Karate Nerds between the ages of 18-35 to fly to Okinawa and live there for 6-12 months and experience the Way of Karate at its source.
This programme is the result of an exclusive collaboration between myself, KARATEbyJesse.com, and James Pankiewicz, founder of The DOJO Bar & Cafe / Challenge Okinawa, together with Seishin International as proud sponsor.
If you are a young Karate Nerd who dreams of discovering the essence of Karate (…and yourself) – keep reading.
The Okinawan Karate Nerd Programme includes:
– 6 or 12 months living in Okinawa – the birthplace of Karate.
– Daily training with traditional Karate masters and living legends.
– Hands on involvement behind the scenes in Okinawan seminars and events.
– Working part time at The DOJO Bar & Cafe and Challenge Okinawa (The 100 Kata Event, international seminars etc).
– Access to unique Okinawan cultural activities such as working in a awamori factory or with a master sanshin maker, exploring Okinawa's mountain trails, or coastline on kayak, exploring Okinawa's castles and caves, learn to cook traditional food etc.
If you are accepted into OKNP, the following will be provided for you:
– Pre-trip advice on visa application (applicant must apply themselves) and general preparation help.
– Airport pick up, good value accommodation (applicant pays) and orientation on Okinawa.
– Help with designing personal training programme, introductions to local teachers and access to other Karate resources.
– Part time work at The DOJO Bar & Cafe and/or as assistant in local Karate events.
– Introduction to cultural and learning opportunities such as Japanese lessons, calligraphy lessons, cooking classes etc.
– Special excursions and trips around Okinawa and nearby islands to discover unique locations and people.
– Any assistance required with other necessary services such as travel, local government, medical etc.
– Custom Seishin International kit; including The Seishin Gi, The Seishin Bag, The Seishin Bracelet etc.
– 6-12 month unlimited access to Karate Nerd Insider™, my private online weekly video subscription club.
– Personal online consultation and support from me during your entire stay in Okinawa.
Sounds good?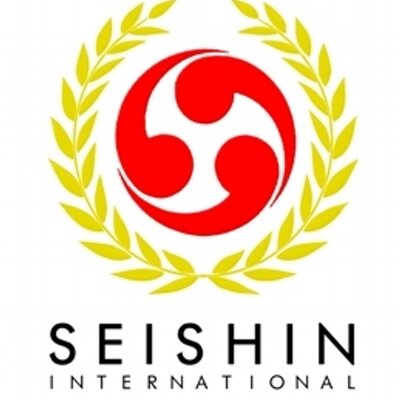 This is literally a dream come true for a young Karate Nerd.
However, OKNP is not a "walk in the park".
You need to prove yourself worthy of this amazing opportunity.
The programme requires dedication and effort.
OKNP applicants need to:
– Be available to spend 6 – 12 months in Okinawa, starting no later than March 1st.
– Be aged 18 – 35 years old at time of applying.
– Ideally be eligible for a Working Holiday Visa in Japan, or at least able to obtain a 90 day tourist visa with funds to exit/reenter and renew visa after 90 days.
– Have funds to purchase a return ticket to Okinawa.
– Have sufficient funds to be able to support basic living expenses for 6 – 12 months (approximately $1000 US per month).
– Be absolutely committed to learning and working hard in Okinawa. This will be an incredible and also very challenging experience. Applicants must have open minds, open hearts and boundless enthusiasm. This programme will change your life. Trust me, I moved to Okinawa by myself when I was 20 years old. It changed me forever. If OKNP had existed back then, I would have applied in a heartbeat.
– Be committed to documenting their Okinawan Karate Nerd Programme experience through text, photos and video, in order to be shared on www.karatebyjesse.com, www.dojobarnaha.com, www.seishin-international.com along with associated websites and social media. The applicant grants the licence to freely use this content without charge or expectations by all parties.
– Be able to speak and write in English. No Japanese language skills needed (although it's a plus).
That's all you need to know for now.
This application is 100% FREE for anyone to send in.
The deadline is January 1st. No fees will be charged for administration.
You will be judged by me and James based on a combination of your experience, attitude, maturity and socio-economic status.
Remember, a maximum of two people will get selected (one girl/guy) for next year's Okinawan Karate Nerd Programme.
Is it you? Fingers crossed.
Good luck! 🙂