Two weeks ago I taught a Karate class for kids.
(Of course I do that every week, but two weeks ago something special happened.)
It's always fun to teach kids because they are not afraid of expressing their thoughts and ideas quite freely, and this training was no exception.
Towards the end of the session, with about 15 minutes left, we did the Pinan (or Heian) kata. Starting with Pinan Nidan, everyone worked in their own pace, nice and easy, when one small boy with blond hair and blue eyes suddenly exclaimed:
"This kata is like metal!"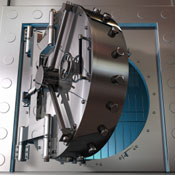 I turned around and looked at him
"What… ? Metal?" I said.

"Yes, this kata is like metal. It feels like a big hard metal wall"
"Hmm… that's interesting" I thought. This kid feels that Pinan Nidan is like an element. The element of metal, to be exact.
What an interesting and abstract idea.
I knelt down in front of the boy.
"Okay, that's cool! What about the next kata, Pinan Shodan then? How does that feel?" I asked him.
"Oh, that's easy. Pinan Shodan is wood. It's like these tall trees, with a lot of branches everywhere" he said, as he demonstrated the first three movements of the kata.
Pinan Nidan was metal…
And now Pinan Shodan was wood.
I can't say I was shocked though, more like surprised. What's going on in that little brain? So I just had to ask about the third, and last, kata that he knew.
"And Pinan Sandan? How's that kata?"
"That's a harder one, because I just recently learned it. However, I have a strong feeling that it is like wind. Especially at this part," he said, as he showed the part in the middle of the kata where you step in shiko dachi three times forward, with your hands on your hips.
Pinan Sandan was wind.
Isn't that remarkable?
I find this type of abstract thinking really fascinating. I mean, this boy has never read anything about zen philosophy, the different elements (wind, water, wood, metal etc) of Asian culture, yin/yang or other similar concepts, yet he naturally feels, and expresses, them.
Through kata.
That's a good reminder of how something as simple as a pattern of movements can be viewed completely different by different people.
No, not viewed. I mean felt.
And that got me wondering: Are there other people who feel this way of kata?
Maybe somebody feels this kata is blue, and that kata is orange? Or that this kata is salty, and that kata is sweet, with a hint of sour?
Why not?
I would really want to ask people, but I'm afraid adults are too occupied with thinking about what other people might think about them if they said the "wrong" thing.
So next week I'm asking the kids class.
Can you imagine if somebody think different kata smells differently?
"This kata is like strawberries, but that kata is poop." some kid might say!
Anyway, I thought I would give you my own idea of kata. I am one of those who think mainly in pictures, so I will draw my idea of kata for you.
To me, a kata is like this:
Do I even need to explain?
Look closely.
In what way does the above drawing represent a kata?
It should be easy to understand what I mean.

No?
Okay, I'll explain:
This is a kata to me.
It begins at zero, with a bow (rei).
Then, where I've written "things start heating up", your mind goes into another state. You mentally enter the kata, and prepare to "face a million enemies" as Funakoshi put it.
The eyes glare.
The shoulders drop.
The legs and toes grip the floor.
The Karate spirit is switched on.
Then comes the actual physical movements, represented by quick switches between hard and soft techniques in different directions. A few kiai here and there marks the highest points in the graph (the strongest moves), while "softer" and slow moves are the lower points.
Pauses are at the bottom.
Then, finally, the kata starts to end (described as "cooling down" in the graph).
That's zanshin, in Japanese.
At this part your eyes should signal "If I must, then I'm ready to do it all over again, right now! Just bring it on!"
But, you decide to end, with a bow (rei) and the kata is completed.
Voilá.
That's a kata to me.
Sometimes – when I'm in the mood – I even let a river represent the same graph, with waterfalls,
strong currents, whirlpools and everything.
It's exactly the same picture as above, just a river instead of a boring line (as expressed in the Japanese phrase "Ryu Sui Saki Kiso Wo Wasu" – "Flowing water competes with nothing").
So anyway, to sum it up: A random kid in our dojo thinks kata are like the different elements, and I think it's like that line you see on a monitor beside hospital beds.
Are there any other ideas?
What did our famous old Karate pioneers think?
Well, for example, Funakoshi thought the kata Gojushiho was a woodpecker. The kata Unsu was a 'flying waves', and the kata Chinto was a crane on a rock.
That's why he tried changing the names of these kata to Hotaku (woodpecker), Hito (fly+waves) and Gankaku (rock+crane). Okay, he had some political reason too, but that's another story.
Another example would be Mabuni, who even wrote a 31-syllable abstract Japanese poem (known as a "tanka") on his view of kata.
It went something like this:
"Nanigoto mo uchi wasuretari

Hisasura ni bu no shima sashite

Kogu ga tanoshiki"
The translation is different depending on how you understand it (that's why they call it an abstract poem) but in English it might be expressed like this:
"When the spirit of Karate-Do (Bu) is deeply embraced, it (kata) becomes the vehicle (described as a boat) in which one is ferried across the great void to the 'world within' (described as 'Bu'-island)"
That's great.
We now know that a kata can be metal, wood, wind, a river, a graph, flying waves, a woodpecker, a crane on a rock, and… a boat.
Depending on who you are.
There is no limit. Feelings are not supposed to be logical.
Anything goes.
So how does a kata feel for you?