Have you ever wondered…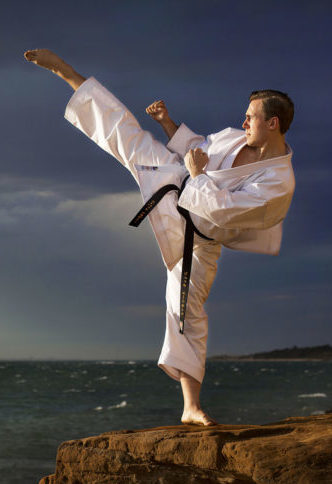 Why isn't there a single traditional kata with mawashi-geri (roundhouse kick)?
I mean, it's the most popular kick in Karate tournaments!
Yet, it was never taught in Okinawa – the birthplace of Karate.
(In fact, there are no "flashy" kicks in the books published by pioneers such as Funakoshi Gichin, Motobu Choki, Mabuni Kenwa etc.)
The old-school Karate kicks were mostly straight/low (as seen in traditional kata) suitable for self-defense.
But modern Karate has tons of spectacular kicks…
How come?
Some people think they came from Kung Fu. However, the southern Chinese styles that influenced Karate utilize the same kicks as Okinawan Karate. Other people think the kicks came from Taekwondo – but it's actually the other way around (don't tell the Taekwondo people).
The truth is that Karate's modern kicks were copied from a French martial art that was introduced to mainland Japan long before the Okinawan masters arrived.
It's called "Savate".
And one Japanese sensei used it to revolutionize Karate…
Watch the video:
---