Last part!
(here's part 3 if you missed it)
Read slowly and it lasts longer!
J: Okay, we need to start wrapping things up. A few questions left. If you didn't do Karate, what would you be doing instead?
D: "I think I would have gone marketing. You know, something in that career. Sometimes I think I could have been an actor. I really like that, because I think when you do a kata it is like a performance. Of course you shouldn't overact, but you have to give this aura… this feeling."
J: Interesting. Now, let's say somebody wants to become a World Champion, like you. What is the most important advice you want to give them, if you can only say one thing?
D: "Consistent. Be consistent. For me, that's what worked. For instance, I was third, third, third again [speaking of his World Championship results]. So I thought "Okay, I need to keep trying"…"
J: … never give up?
D: "Never give up! If you really want something… try. And be consistent."
J: And looking forward, where do you see Karate in 10 years? Olympics?
D: "Well, I think the Olympics is a little bit far away. But I hope, I hope we can make it to the Olympics. I'm not against that, it can get Karate more exposure and support. Of course, depending on the people taking the lead. It could be a really good thing. But I don't know, I hope Karate develops. I think the idea of the "Premier League" is a good idea for more official competition on a high WKF level. I really hope Karate improves, but I like to see everybody more together. Not so many divisions about "Sport" or "Tradition", or "Shotokan" and "Shito-ryu", or "my school, "your school"… no. No. I'd like to see more together. You know, sometimes people will say "Shotokan is the best!" or "Shito-ryu is the best!", but I think it's fun to share!"
J: Indeed! I even read that perhaps one day you would like to compete with a Shotokan kata?! Is that true?
D: "Yeah, yeah! I know some Shotokan kata but only the directions, not all details. So maybe it would be a challenge to one time do it."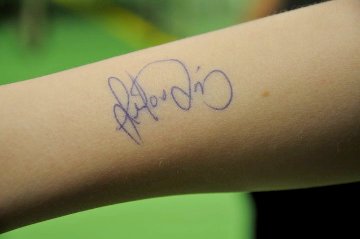 J: So if you had to compete, right now, with a Shotokan kata – which one would you chose?
D: [without hesitation] "EMPI!"
J: Empi!? Why?
D: "Aaah… I don't know. I like it, I like it."
J: Okay, getting back to reality: Do you have any specific projects that you would like to realise, maybe after you've stopped competing?
D: "Well now I'm trying to develop the organization [Inoue-ha Shito-ryu Keishinkai] in Venezuela, but also I'd like to give the people – even the ones who are not in my style or organization – a chance to work together in developing Karate. First of all I want to develop a good level of Karate in Venezuela, and in this I have many people working. Also, I really enjoy the idea of a "kata only" tournament and I hope I can develop something like that back home. But right now I'm thinking that even after I retire I really want to continue being involved in Karate. It's a big part of my life. After being competing for so long, and winning many tournaments, I think you need to stay close to the sport even after you retire. But also, at that time I am going to have more time to go and practice other things, things I don't have time for now. Maybe then I can start learning some of the "secrets"! I have many things I'd like to do, but mainly I want to do good things for Karate."
J: Speaking of retirement, I need to ask you something: I heard a rumor that you were actually going to quit competing if you didn't win the World Championships in Tokyo 2008. Is this true?
D: "Yeah, yeah. It's true. First I said that "If I don't win here in Tokyo I quit!". But then… [silence]… I was like: "I need one more chance, once more try!". The thing is; I have been competing for a long time now. Since I was 18 years, and now I'm 30. The reason why I continued was because I changed my training, and focused more on technique with Inoue-sensei. So I said, "Okay, now I feel good, if I keep a healthy lifestyle and keep training maybe I can make some more years!". So I really started improving my technique. But it's normal, when you're growing older your body condition changes. It is slowly going down. So I think my new and improved techniques can cover my lack of speed and strength when I get older. Anyway, after Tokyo I said "I'm going to give it one more try!" and it was good! I won! That's why I say "Never give up, be consistent!". So my plan now is to go to Paris, next year [World Championships 2012]. I think that's nice, because that's where I started competing in Europe, you know, Paris Open, and other European competitions."
J: So you could say that the "circle is completed" then?
D: "Yeah, and I think I have a good feeling with the city. It's going to be in a very nice place, the Versailles Stadium. I went there 2 years ago for a martial arts festival, and I demonstrated a kata for like 10'000 people. The feeling was amazing. That was very nice, so I have said "Okay, that will be the place!". But I know I have to work hard. For example, in the last Paris Open I was a little bit nervous, because after the World Championship I became sick. I think the pressure got to me, and when I got home I was sick for 2 weeks! So I was a little bit hesitant in going to the Paris Open, but Inoue-sensei called me and said "You need to go because Rika [Usami] is going!". So I had to put together a quick workout plan. But it ended up good!"
J: Yeah, you won! Oh no… the time is running out! Do you have any final words?
D: "Well, like I said [counts on his fingers]; Enjoy Karate. Have fun. Be passionate about it. Be consistent. Never give up. And for you, keep up the good work! Your web page is becoming really famous, I hear a lot you know!"
J: Thanks a lot, for everything! It was a real pleasure talking to you, and good luck!
As I give Diaz sensei a very manly man hug and leave the hotel, I can't help but feel deeply impressed by his impeccable manners and humble attitude. 50 minutes felt like 10. Truth be told, I've met far too many many higher ranked "grand masters" – even in Okinawa! – who could borrow a page or two out of Diaz's book. Yet, much of the (unfounded) criticism against Sport Karate is based upon this notion that some "deeper" aspects in the philosophy and mentality of Karate is lost in competition… hmm?
Indeed, sometimes it is.
None of it can be seen in this man though
I guess haterz gon' hate.
Ultimately, for me, Antonio Diaz gives hope. Hope that with a healthy dose hard training, a 'never say never' attitude, an open mind and great passion for what you do – you goals will one day be fulfilled.
In an era where Sport Karate was just about to spin out of control, Diaz's influence today, as the reigning World Champion, (note: he makes no "sound" at all with his mouth, as 99% of kata competitors normally do) is more important than it has ever been before. A great responsibility.
In great hands.
Therefore, let's keep our fingers crossed that he wins the next World Championships.
So the future may become brighter for all of us.