Some Shotokan Karate dude once told me I was a "style-basher".
You know, one of those ignoramuses who goes around loudly declaring how all other styles of Karate suck (except his/her own style, of course).
I was appalled.
"Me? A style-basher?! Omigosh!", I thought. Sure, I had indeed remarked that I found it hard to extract natural and practical self-defense techniques from the traditional style of Shotokan, but… a style-basher? Me? No way!

See, I have always used these weird analogies, similes and metaphors for better understanding Karate. You might have come across them in some of my previous posts. Anyway, for the sake of this post, I'd like to reintroduce one such analogy right now, very quickly.
Imagine an apple tree.
The tree of Karate.
The roots are, obviously, found in China, Taiwan, Siam and other Southeast Asian areas from where indigenous combative techniques were brought to this tiny island called Okinawa (in the Ryukyuan archipelago) during hundreds of year, eventually culminating in a very unique coctail of fighting arts later to be distilled (through a Japanese filter) into what we today call Karate.
So, the base of the tree is Okinawa then, because that's where the roots converge.
From here on, the tree grows like crazy. Sure, the base of the trunk gets a bit wider too, but most of the growth lies in its height (get it?).
Eventually, as the tree matures, branches even start appearing. Some are thick, some are thin (get it?). Some are situated lower down on the tree, some are higher (again, get it?). There's more to be said about this, but let's stop here. Just keep this image of an apple tree in your head and I'm satisfied, mmkay?
Now, as a Karate Nerd™, you only have one real responsibility when it comes to this tree.
You need to take care of it.
Examine it. Nurture it. Sometimes repair it. Make it grow. Protect it. Water it. Remove bugs. Trim it. And such.
The goal?
Just as with any regular ol' apple tree, of course.
Make those juicy apples appear!
Get it?
So, for me to neglect perhaps the most prominent branch (Shotokan) of this Karate tree is just ridiculous (remember, on every big branch there are smaller branches growing). If you have an apple tree, you simply can't afford to ignore one of the most fruitful branches of the tree, can you?
Certainly not.
So, here's what I want to do today: I want to briefly outline what I personally believe are some of the main advantages (pros) when it comes to Shotokan Karate. The impopular negative aspects of the style (i.e. lack of pragmatic self-defense, stressful for joints and lower back, bad bunkai etc.) will be left to you style-bashers for today. Because, although every branch on a tree has some flaws (damn termites!), the branch exists for a reason… or else it would have been cut away.
So, with those words being said, here's what I believe are the four universal strengths of Shotokan Karate:
#1. It's global. Like, scary "World Domination"-type global
Visit basically any country in the world, no matter how tiny or weird, and the chances are of epic proportions that you will find a local Shotokan dojo around the corner. The style of Shotokan is most likely the ultimate style for a backpacker, hippie or secret agent (and other people who travel a lot) since you can practise it almost anywhere on the planet.
And the greatest part of it all? It looks very much alike. Everywhere.
Meaning, there isn't too much discrepancy between Shotokan schools in general (details there are plenty of, though!). Japanese terms, stances, basic techniques, basic kata and sparring is pretty easy to tag along with everywhere. And all of this thanks to a bunch of Japanese youngsters who were sent like missionaries around the world during the last decades to spread the word of Shotokan!
A Shotokan style reverse punch is a Shotokan style reverse punch no matter where in the world you go.
And that's awesome.
#2: "Biiiig movement make stroooong samurai!" [imagine a Japanese voice]
It can't be denied that the movements of Shotokan are exaggerated.
Deep stances? Make that extra deep, with some deep-sauce on top! High kicks? Make that super high, with some… [I sense a drug related joke in there somewhere, but there might be children reading]. You get the point. Long punches, big steps, deep stances, high kicks and loud yells is what Shotokan is all about.
If you want to become good at Shotokan, you can never, never, cheat.
Ever.
Which is exactly why people who have done any of the other three most popular Japanese styles (Goju-ryu, Wado-ryu or Shito-ryu) have a really hard time adapting to Shotokan because they are so used to small and narrow movements!
On the flip side, a Shotokan stylist will have an easier time adapting to other styles, as it is just a matter of shrinking the techniques a bit (well, it's about much more than that actually, but you gotta start somewhere). Easy peasy, compared to expanding everything.
So what's so good about big techniques? Well, you get more actual training for the same bucks, and it looks way nicer in tournaments and demos. Especially if you're a big guy.
[Note: I once tried performing a whole Shotokan kata, I think it was Gojushiho Dai. My left thigh still hasn't fully recovered, and I still don't know why people didn't warn me!]
#3: The Wonderful "Shut-Up-And-Train"-Mentality
Historically, Shotokan Karate has been taught to Westerners by Japanese masters who were sent here to destroy us teach us. Sure, the same can be said of a few other styles too (Shito-ryu springs to mind), but not to the same extent. With most other styles of Karate, Westerners went themselves to Japan instead, learnt some basic Karate and then came back to teach their fellow citizens.
This has huge implications.
See… a Japanese dude will teach the Japanese way. A Westerner will not.
Meaning, Shotokan often has an unequalled dojo culture, rarely matched by any other Karate style, when it comes to two things:
Shutting up.
And training.
Which is a beautiful thing.
I mean, that's why you go to the dojo in the first place, right? To simply 1) shut up, and 2) train for a while! Thus, when it comes to discipline and dojo etiquette, correct training mentality and a never-give-up attitude, Shotokan is the way to go.
Sometimes it can get a bit militaristic though, depending entirely on the sensei.
Obviously, not everyone are into that.
But if you are, more power to you.
#4: Historical Gems & Curious Facts
So yeah, Shotokan is mainstream. No doubt about it.
But even though something is mainstream, there's always bound to be strange stuff going on behind the curtains. And believe me when I say that Shotokan has tons of interesting learnings and strange historical gems going on!
Ever seen the Shotokan kata Wankan, or Sochin? Why are they so different from all other styles' Wankan or Sochin? And what's up with those bunny hops at the end of Chinte? And is it true that the names of Gojushiho Sho and Dai were switched in order to not embarrass a famous sensei who mixed them up at a tournament? And what about Kobudo? Did Funakoshi Gichin really know the bo kata Tenryu no Kon? What about sai? There's plenty of pictures where he's holding them! And let's not forget the old chi-ishi training tool, almost only seen in Goju-ryu today!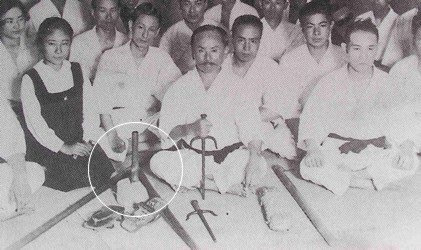 See?
Shotokan Karate has an abundance of fun and interesting historical/technical gems that are just waiting for people to explore!
(Of course, you would have to be a bit of a nerd to appreciate this point…)
_________________
And that, ladies and germs, concludes my brief breakdown of the four main strengths of Shotokan Karate.
Agree or disagree?
At the end of the day, Shotokan's dynamic, no-nonsense, straightforward Karate-do style sends a clear message to all the other styles out there: Even though it might not be the perfect style for all occasions (every branch of the tree has its weak and strong points), a lot of people can benefit from tapping into the knowledge of its four main strengths presented above.
Also, I'm not a style-basher.
End of story.