SOLD OUT! Pre-order the video recordings here.
Dear Karate Nerd,
Are you ready for the world's #1 Karate camp?
For the 7th year in a row, I'm organizing my annual KNX seminar.
The event takes place in Poland on Aug 6th – 9th.
If you're new here, KNX is about learning and connecting on a deeper level. Quality over quantity.
The goal is laser focused:
Take YOUR Karate to the NEXT level!
I've been to hundreds of Karate camps across the world. Sadly, only a handful of those were epic experiences.
Often I wasted both time and money on "experts" or champions who didn't inspire me or teach anything special.
So believe me:
KNX21 will be unlike ANY other seminar you've EVER attended.

Your belt level, experience or style doesn't matter. KNX is for everyone who wants a life-changing moment…
…with likeminded Karate Nerds from around the world.
In fact, you don't even need to bring your belt – because everyone wears the famous pink belt.
KNX takes place in a new country every year. This year's location is a stunning Japanese-style village in a national park in Poland, uniquely designed for martial arts retreats.
SOLD OUT! Pre-order the video recordings here.
Here are some of the teachers:
As you probably know, I recently visited China to research the roots of Karate.
During my stay in Yongchun village (the birthplace of White Crane style), I noticed many photos of a blonde Westerner on the walls.
When I asked who it was, they told me his name was Martin Watts, and he came to China 27 years ago to study White Crane kung fu at the source.
Today, Sifu Watts has become the Western world's #1 expert on ancestral White Crane fist…
…the primary kung fu style that influenced the evolution of Karate!
Don't miss this opportunity to experience the ancient Chinese art that provided the historical framework for Karate to be developed in Okinawa.
At KNX21, Sifu Watts will share his comparative analysis of Karate and White Crane with us. We will learn the original Yongchun version of Sanchin (Sanzhan) kata along with its classical 2-person exercises linking back to Bubishi – The Bible of Karate.
Oliver Enkamp
Pro MMA Fighter
Due to popular demand, my brother Oliver returns share his unique blend of Karate and MMA.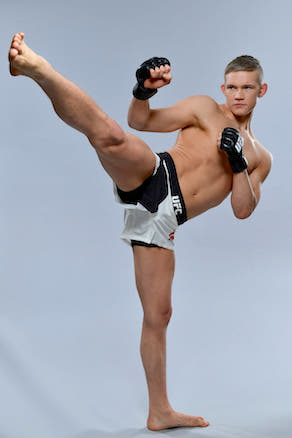 Me and Oliver spent our childhood growing up in our family's martial arts centre. Together, we've traveled the world to train with the "best of the best" – ranging from grandmasters in Okinawa to UFC champions in America.
By combining his Karate skills as national team athlete, with insights from mentors like Lyoto Machida, GSP and the Gracie Brothers, Oliver has designed a system that combines the best elements of MMA and Karate.
The result is a comprehensive method that provides a simple pathway to fighting mastery.
At KNX21, Oliver will reveal the techniques and tactics that earned him multiple wins as professional MMA fighter (UFC, Bellator) from a Karate perspective.
Dr. Lucio Maurino
European & World Champion
For the first time in history, I'm bringing back a previous teacher!
Dr. Lucio Maurino (Level IV Olympic Coach & Biomechanics Expert) was the very first KNX instructor in 2014.
Since then, the world of Karate and Sport Science has evolved drastically. For this reason, I've invited him back to share his new discoveries about motor control optimization and teaching / learning methodologies.
As Karate Nerds, it's our duty to understand both the old and the new. Between tradition and science. Few people are more qualified than Lucio Maurino to lead us down this path.
That's why I chose him as the first KNX teacher – seven editions ago!
As multiple-times European and World Champion, Dr. Maurino has unique insights that will be shared in both practical and theoretical lessons.
Jesse Enkamp
The Karate Nerd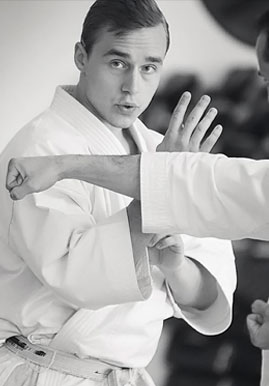 Last but not least… me! If you're not a long-time reader, allow me to briefly introduce myself:
I'm a lifelong Karate Nerd, national team athlete, founder of Seishin International, author of multiple books, a "Youtuber" and carrot cake lover.
My job is to elevate the collective consciousness of Karate as a whole, regardless of dogmatic limitations, organizations, belts or styles.
After all, what brings us together is far more important than what sets us apart!
That's why I believe Karate is the ultimate vehicle for self-actualization.
At KNX21, I will teach unique discoveries from my journey as "The Karate Nerd".
There will also be a Secret Sensei!
If you want to experience a life-changing seminar and make new friends for life, KNX21 is the perfect opportunity for you.
The only requirement is that you're 18+ years old, have an open mind, can travel on your own and speak English.
Your ticket includes accommodation from August 6th to 9th, breakfast, lunch, snacks, dinner, all practical classes and theory lectures (including secret activities), venue fees, Karate Nerd goodie bag, professional videos and photos, plus entry to the spa.
SOLD OUT! Pre-order the video recordings here.
Note: Travel recommendations, locations and timetable will only be provided to participants (after the registration has closed).
Here's a video from an earlier KNX:
So, what are you waiting for? Just register and come along!
We'll take care of the rest for you. 😉
Questions? Leave a comment.
See you at KNX21!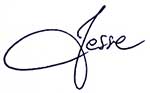 More KNX Stuff: